Work on Marvel's Loki Helps Faccinto Carve Out Specialized Film Graphics Career
| Alumni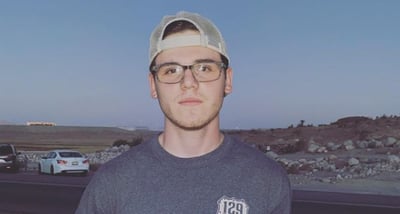 The vision of becoming a high school class president has no doubt inspired many careers. But it's not likely that many aspiring student government leaders have taken a path to success like that of recent Trevecca graduate Darby Faccinto.
"My freshman year in high school, my friend and I thought we could help my chances of getting elected class president if we created some graphics that made it look like I was inside the Iron Man armor," he said. "I realized it was probably a nerdy thing to do, and it didn't work out the way I originally intended, but when I started trying to get that look, I was hooked."
The task turned into a hobby that he'd work on in his spare time, still focused on digitally replicating the Iron Man image. He went as far as researching and then reaching out to a person who'd helped create the actual movie effects for Marvel. When he heard back from that industry professional, Jayse Hansen, he was even more intrigued. Throughout high school and into his college years at Trevecca, Faccinto exchanged casual emails about the craft with Hansen, who was encouraging and helpful. When he entered Trevecca's film and television program, though, Faccinto had his sights set on a broader career in film, with no thought that his hobby would be part of the equation.
Toward the end of Faccinto's freshman year, Hansen invited him to visit Las Vegas for a big industry trade convention, the NAB Show. Curious, but thinking he'd just meet his friend in person and take in the sights, Faccinto accepted. By the time he left Vegas, Faccinto had not only become better acquainted with Hansen; he started looking at him as a real mentor. He also met other professionals in the industry, and decided that a full-time career in motion graphics might be a realistic goal.
With Hansen as a guide, Faccinto began to invent projects for himself so he could build a small portfolio (starting with his finished pet project, the Iron Man imagery). He hoped to apply for an internship with a company that Hansen often contracted for, Cantina Creative. But it was 2020, and that opportunity dissolved due to COVID. Instead, after finishing his second year at Trevecca, Faccinto relocated to Vegas for a while to help Hansen with a film project for the movie Sight. Faccinto was all in on pursuing his niche passion as a career.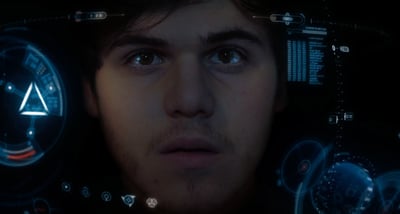 With that experience and then a little more work in the field of future user interface (FUI) graphics, he wondered what to do next. At Hansen's suggestion, he applied directly for a position with Cantina, and they decided to give him a try. His first assignment: creating graphics that would be displayed on many of the monitors and screens used in the Marvel/Disney+ series Loki.
Settling into a lakeside cabin near Cookeville owned by his dad, Faccinto worked on Loki from January to April of 2021. His work was now requiring his full attention. As it happened, Trevecca's well-established undergraduate program in film and television had just expanded to include an associate degree, and Faccinto had earned enough college credits to complete it – making him the inaugural graduate of the associate-level program in film production.
"Even though some of my work as an FUI artist isn't directly related to what I was studying in my classes, being a student at Trevecca taught me a lot," Faccinto said. "Story structure plays a big part in making graphics feel right, and my film courses provided some great insight there. In general, learning to manage my time wisely was new for me in some ways, and that's something I'll carry over to my career no matter where it takes me. I'll always be glad I had that experience as a college student."
Faccinto says faith has also played a big part in his career direction.
"As I studied the story of Joseph in scripture and prayed for guidance, I realized God was asking me to give Him the ownership of my creative work," he said. "As much as I might have wanted to, I couldn't own the product of my labor. It's only when I put that into perspective that doors started opening and the pieces fell into place so I could actually see my career taking shape."
Now, as an official college graduate with a firm foundation and a future filled with possibility, Faccinto is on to new projects. Just don't ask him for details – spoilers aren't allowed in his line of work.
It's safe to assume that you can see the final product soon enough on a screen near you, though.