Power Play: Trevecca grad Tom Reed on working for the Preds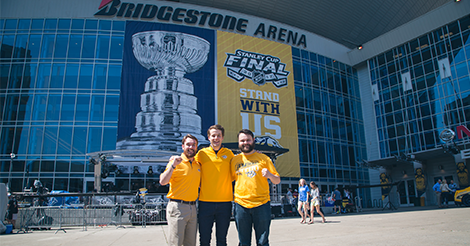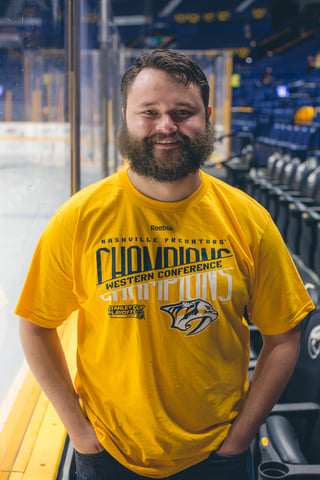 Nashville's energy is at an all-time high. Everywhere you look Gnash, the Predator's mascot, is baring his teeth ready to bring home the Stanley Cup.
Tom Reed, a Trevecca graduate, is the associate account executive for the Preds. After graduating in 2015, he's now working with the Preds full-time and recently talked with us about the fans, the excitement, and the season thus far.
Explain your job. What are your responsibilities within the organization?
My title is associate account executive. I work in the sales department working to get more fans in the door and keep them coming out [to games].
What is the best part of your job?
Honestly, just working in sports, we get to talk sports all day, every day with people who share the same interests. We also get to watch the games. Coming from England, hockey was never big for me growing up, but the sport is fantastic. But it is also quite rewarding to see people in the crowd going wild at the games, as you have had a direct input to get them in.
What is it like being a part of the Preds organization and going to the Stanley Cup?
It's amazing! My job directly has gotten a lot better with the run the team is currently on. The city has really taken to this team and seeing the amount of new fans who want to come out to the games, it's been amazing. We have had the Campbell Bowl (Western Conference trophy) in the office for the last few days so we have been able to go and have photos taken with it. Plus, it helps when it's the first thing you see when you enter the office in the morning.
What has been the best moment this season?
Honestly it would be easy to say winning the Western Conference, but to me it was sweeping Chicago. They have had our number in previous years, so being able to shake off the demons in such a convincing fashion has been pretty amazing.
How has your time at Trevecca influenced your job with the Preds?
Trevecca had a direct influence on where I am now. I had lots of helpers and mentors in my time there, but Dr. Cole was truly amazing when it came to helping me get an internship with the Preds, which got my foot in the door to the organization. I also got to work for the plant ops department during my time at Trevecca, which also helped me in terms of gaining a work ethic.