Wellness Wednesday: Making New Friends While Social Distancing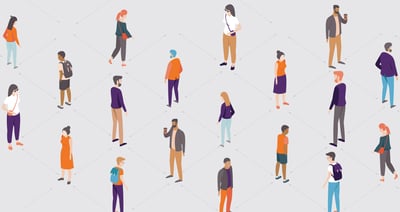 This post is part of an ongoing blog series from Trevecca's SWEET (Student Wellness Education and Engagement at Trevecca) team as our traditional undergraduate students adjust to being Back Home to the Hill.
During this stressful time of social distancing, many of us have made it a priority to keep in touch with loved ones and friends in creative ways. For some of us, however, this time of social distancing has brought to light that our social circles may not be as big as we thought. Maybe you're in a new season in life and want to make new friendships to go along with that.
Whatever the circumstance, making new friendships in the midst of a pandemic is new territory for everyone, but it is possible and can be a positive way to bolster your support system—especially if you're new to the University. Here are some ways you can meet new friends, even when you're practicing social distancing and health and safety protocols.
Catch up with old acquaintances.

Whether you're a freshman or a transfer student or you've been around Trevecca for a while, taking the time to reconnect with acquaintances and classmates is worth the effort. These may have been the people you see in passing every now and then but were never able to make solid plans to hang out. Oftentimes, we already know these people enough to be connect with easily. Go through your text messages from a year ago and see if there's someone that you haven't talked to in a while. Send a Teams chat to someone you had class with before. Make an effort to reach out—it may be just the nudge you and your acquaintance need to get to know each other.


Join classmates on a walk.

Maybe you notice the same people walking in the same direction as you every morning. Say hello next time you see them and strike up a conversation about class/weather/insert topic of choice here. You may be wearing masks and you may be walking a little further apart than you usually would, but don't overlook opportunities to connect with the people you see on a regular basis.


Get involved.
Residential students, reach out to your RA or RD about activities in your residence hall. Finding a student group to join can also be a great way to get connected with other students. TNU Student Government Association is a great resource for events on campus. Keep up with their latest updates on Instagram @tnusga. For more information on the clubs and organizations on campus, visit https://www.trevecca.edu/community-life/clubs-organizations.
---
At Trevecca, we support students—no matter what you're walking through—through the work of the Center for Student Development and the Trevecca Counseling Center.