Freshmen 15: Juggling Work and School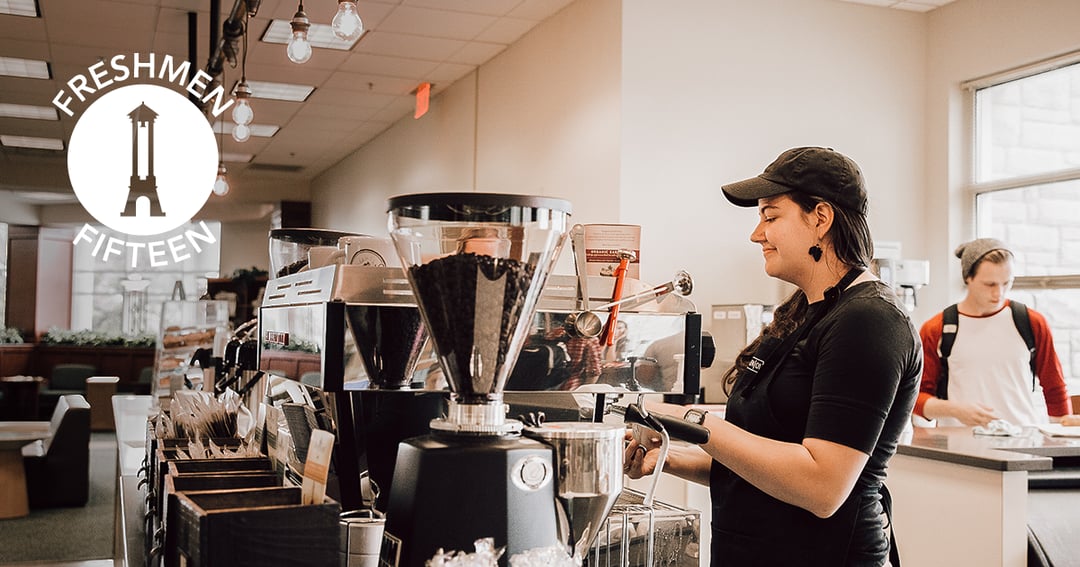 Today's post is part of Freshmen 15, a year-long blog series that will explore 15 topics traditional undergraduate students often face during their first year of college. Trevecca students, faculty and staff members will weigh in over the course of the academic year as we examine loneliness, living with roommates and more.
For Alexandria Burns, juggling work and school was difficult her first semester. During her second semester, she learned how to manage her expectations.
"Juggling work and school first semester was pretty hard," said Burns, a Trevecca sophomore and business management major. "Both school and work demanded a lot of my time and energy, so it could get tough at times."
She started out working in the Hub for 20 hours a week, then worked in the cafeteria for only one shift a week. In the end, she made the decision to prioritize school.
"I managed by getting up earlier in order to study or get any assignments done," she said. "I also had to carve out time in my day, and this meant that I would sometimes have to sacrifice hanging out with my friends."
Katelyn Sharpes, director of career services and professional development, said 20 hours is the maximum that students should work during the week. If anything goes above that, Sharpes says the combination of work and academic responsibilities can become too much.
"Coming to college is a big transition for everyone," Sharpes said. "I think navigating that transition can be difficult depending on family origin, your lifestyle previously and how you adapt to new experiences."
When searching for a job, Sharpes said for students to make sure they understand what a job is asking of them, how many hours they are expected to work and what they will be required to do. Knowing that and learning the expectations of a class ahead of time will ensure students don't take on more than they can handle.
Offering advice to freshman, Burns said students should try to get an on-campus job for their first year.
"The first year is already hard enough getting adjusted to college and all of the classes," Burns said. "Working on campus will alleviate some of the stress since you will be working on campus and you won't have to worry about driving anywhere."
She also said it's easy for students to get caught up making money, but they should focus on studying and trying to make good grades.
Sharpes echoed Burns, adding that students should not procrastinate. She said investing in a planner, having something to look forward to and reflecting on things they've already done is important as well.
When looking for potential jobs, Sharpes said to make sure it's something the student is passionate about. Examples included an education major working at an after-school program, or a student who wants to be a lawyer getting a job at a law firm. She said this is good for building a resume, networking and going on to build a career.
A resource for job searching available to students is Handshake, a career, job and volunteer platform with more than 200 employers interested in hiring Trevecca students and alumni, Sharpes said.