Five Questions with Dr. Kathy Mowry
| Faculty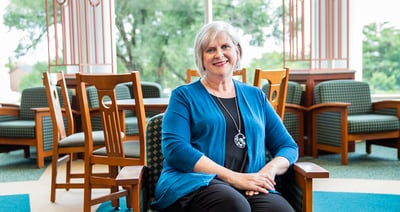 Kathy Mowry ('85), who holds the J.B. Elizer Chair of Christian Ministry in Trevecca's Millard Reed School of Theology and Christian Ministry, has been a member of the faculty at her alma mater since 2007. In addition to her bachelor's degree from Trevecca, Mowry has earned master's degrees—one from Wheaton Graduate School, the other from Fuller Theological Seminary—and a doctorate from Fuller Theological Seminary. An ordained elder in the Church of the Nazarene, Mowry teaches classes in Christian education and intercultural studies at Trevecca, and also serves as the director of Trevecca's new master's program in church and community.
Recently, we got the chance to ask her a few questions about the new program, why she's passionate about her work and more.
You've been a member of Trevecca's faculty for a while. How have you seen the University change?
I joined the faculty in 2007, so this is my 14th year. A lot has changed. The campus is more beautiful. Our online presence has grown from basically nonexistent to a huge part of our community. Faculty and students have come and gone, but I would have to say the biggest, most beautiful change I have seen is in the diversity of the student body. We were largely a white campus when I came, but now we look a lot more like our world. This is exciting to me because it gives us the chance to improve our practice and become a fuller representation of what the kingdom of God looks like.


Recently, Trevecca added a minor in church and community for our undergraduate students in addition to a new master's degree program in church and community. Tell us about these new additions.
These are absolutely unique programs that address skills and areas of ministry that the typical ministerial preparation program doesn't address. How is the church an agent of shalom in a real neighborhood? I am grateful to Trevecca for setting me free to pursue these personal passions that are at the heart of what I believe about what it means to be the church. The people of God have always been called to invest in the places where they are planted. From Abram's call in Genesis 12 to the charge to the exiles in Jeremiah to put down roots and seek the shalom of Babylon of all places, God's people have always been sent into places full of challenges. Some of our ministry models over the last several decades have moved us away from this in favor of preferences and affinity groups or target audiences that look like us. Most of our ministry models in these same decades have been centered around what happens in church buildings and the desire to attract people into those buildings. In addition, the ways we have ministered have not always done well at holding evangelism and justice together to model all the facets of God's mission. But the people of God have always been called to invest in real places with whoever is there and whatever is going on that needs to experience new creation.


Why do you think degree programs like the master's in church and community are needed in today's world?
It's funny because we were planning this exact master's degree before the calendar turned to 2020, and all the new chaos fell upon our churches and communities. So I obviously think we needed it before tornadoes and pandemics and a new wave of racial unrest and economic difficulties in our communities, but the tsunami of events that has hit us in 2020 has only reinforced the point that pastors and lay leaders need to be equipped to address what is going on in their neighborhoods, their cities, their rural areas where people are hurting. The way to embody the gospel is not going to be centered around getting them into our buildings for worship—in fact, that hasn't even been a possibility for much of this year. Pastors need to know how to get to know a neighborhood, how to listen deeply to pain, how to partner with others, how to lead a community to flourishing, when to work with the government to help and when to speak up to the government on behalf of those who need help the most.


You are actively involved in creating formative mission experiences for students. Why is this so important to you?
First, I should say that there is a big difference between formative mission experiences and the typical short-term mission trip. My goal in creating this kind of experience for students is not that they would have an experience of being the hero or bringing either God or transformation to a place (as if God were not already at work in that place). Rather, my goals for the kind of immersive cross-cultural experience I want for students are to place them in the position of a learner, to lead them into profound humility, to help them develop skills in listening deeply to those whose lives are quite different from theirs, to help them begin to look for and see how God is already at work. I want them to know that the development of these skills and this kind of posture are not precursors to sharing the gospel, but these practices are themselves a way of taking a gospel-posture in the world. Jesus put on flesh and moved into the neighborhood (John 1:1).


What excites you about your work? Why are you passionate about working with students?
Some of my best lifelong friends and mentors have been my college professors. I had the privilege of having men and women in my life who pushed me forward, asked me hard questions, and were part of significant transformation in my life during college and well beyond. The thought that in some small way I might do that for others is a happy one. I dearly love being a companion on the journey with students in these years of self-discovery and figuring out next steps. I enjoy suggesting ways that their joys and talents could intersect with the world's great need. Because I do this so frequently, students in past years have joked, "God loves you, and Dr. Mowry has a wonderful plan for your life!"


---

Want to know more?
Seeking ways to love and serve the community where God has placed you? Learn more about the programs Trevecca's Millard Reed School of Theology and Christian ministry has to offer. We can help you prepare for your ministry.