Seek Justice Conference: Meet Lisa Sharon Harper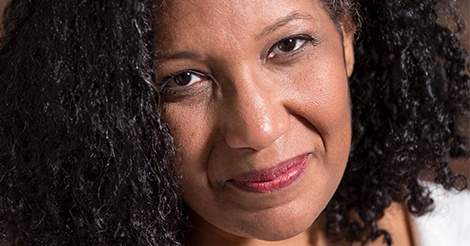 Trevecca's Seek Justice Conference will take place March 16-17 and will include speaker Lisa Sharon Harper, who was recognized in 2015 on the Huffington Post's list of "50 Powerful Women Religious Leaders to Celebrate on International Women's Day."
When interviewed by the Huffington post, Harper's answer on why she does what she does is clear: "So that the church might be worthy of the moniker 'Bride of Christ.'"
So what does Harper do?
She is a writer.
Harper has written multiple books and does not shy away from tough topics facing the church. Her latest writings include Left, Right, and Christ: Evangelical Faith in Politics, Forgive Us: Confessions of a Compromised Faith, and most recently, The Very Good Gospel: How Everything Wrong Can Be Made Right, which was recognized by as the "2016 Book of The Year" by Englewood Review of Books. She is also a columnist for Sojourner magazine, and her writing has been featured on the CNN Belief Blog, Huffington Post, and Relevant, among others.
She is a leader.
Harper has taken part in multiple faith-based positions of leadership including the Chief Church Engagement Office for Sojourners, an online publication that examines injustice in the midst of faith, culture and politics. She is the founder of Freedomroad.us, a consulting group that launched online in 2017. She has trained South African leaders on using democracy to achieve a more just world, as well as activists and in Baltimore and Ferguson to work for justice. Harper is also a leader in the Church and is currently a candidate for ordination with the Evangelical Covenant Church.
She is an organizer.
Harper has initiated multiple campaigns and efforts at reform. She is the founding executive director of New York Faith & Justice, which works to end poverty throughout the city. She was part of the establishment of Faith Leaders For Environmental Justice as well as organizing leaders for the South Bronx Conversations for Change, which endeavored to improve relationships between police and residents.
She is a speaker.
Haper shares her expertise and her heart on justice, peace, and reconciliation at universities, conferences, and churches around the country. Harper will be speaking on shalom and biblical justice as well as diversity and justice as the Seek Justice Conference.
---
Click below to learn more and register for the Seek Justice Conference!