Your graduation checklist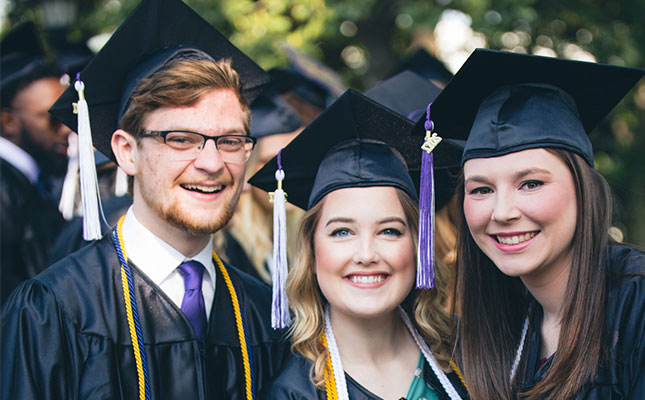 Graduation is just around the corner—just a little over a week away. (In case you've been a little busy, it's scheduled for 9 a.m. on Saturday, May 4 in the Quad.)
So, what exactly should you be doing between now and then, Class of 2019?
Get your regalia.
Your cap and gown are provided for you, and you should have already ordered them. You can pick up your regalia between 9 a.m. and 5 p.m. April 29-May 3 at the TNU Bookstore. If you chose to have your regalia mailed to your home address, you still need to stop by the bookstore before Commencement to pick up your name card, rain tickets, Commencement Handbook and honor cords, if applicable. If you can't make it to campus until the morning of the ceremony, look for a table outside Moore Gymnasium or at the location specified in the rain plan.
Know the important times and dates.
Now's the time to start making sure your friends and family know the details about your graduation ceremony. Visit trevecca.edu/commencement and check out the schedule of events for the weekend. Also take time to look through the instructions for Baccalaureate and Commencement because graduates will need to arrive early to line up for these events. Don't be late for graduation because you waited until the last minute to figure out where you needed to be!
Make reservations as soon as possible.
Have family coming into town for Commencement weekend? Make hotel and other reservations as early as possible. With Belmont University, Lipscomb University, Tennessee State University and Middle Tennessee State University (MTSU) in Murfreesboro, Tenn., all conducting commencement exercises on the weekend of May 4, the earlier you can make your reservations the better.
Stay focused.
Yes, the goal you've been working toward for the last several years is about to become reality, but that doesn't mean you should take your foot off the gas pedal just yet. Choose to finish well rather than coast toward graduation. The final weeks of classes are important and so are your final grades. So, go to class, do the work and finish your degree on a high note.
Take a deep breath and enjoy the moment.
These last few weeks before graduation will pass quickly and there's so much to do. But don't let all of that distract you from truly enjoying the experience. While you may continue your education and earn other degrees in the future, you only get this experience once. Don't let worry, stress or to-do lists crowd out the joy. Set aside times to hang out with friends, to spend time with your family or to simply soak in the people and places at Trevecca that have become special to you. Commencement is the beginning of a whole new chapter in your life. Don't become so focused on what's next that your miss out on celebrating what's now.
Graduates, enjoy these last few weeks! We can't wait to celebrate with you on May 4!
---
Looking for more Commencement info? Click below!