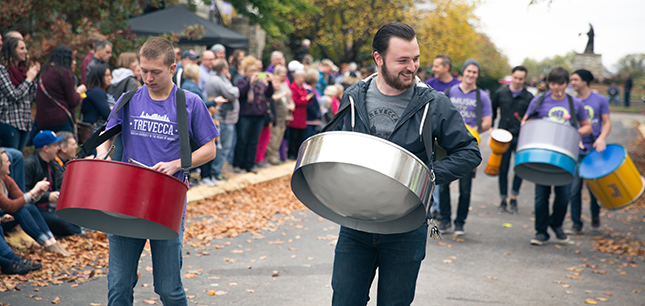 In just a few short weeks, it will be time to come home to the Hill. Homecoming 2016 is set for November 4-5, and we can't wait to see you back on campus.
Last year, more than 200 alumni returned to campus for Homecoming reunions. That doesn't even count those took part in the annual parade and street fair, the Town and Country Showcase, or filled the gym to cheer men's and women's basketball teams.
So what are the top 5 reasons to come home to the Hill this year?
1. You'll get to see friends you haven't seen in awhile.
On November 4-5, alumni and friends will fill campus at reunions, dinners and other festivities. It'll be a time to catch up, reminisce and see how campus has changed and grown. (Speaking of that, tours of the new music building will be offered on Saturday for those who are interested!) So what are the top 5 reasons to come home to the Hill this year?
2. You won't be bored.
The 2016 Homecoming schedule is packed with a variety of activities, with something that's sure to appeal to everyone. You can choose from perennial favorites like the parade, street fair and Friday night alumni showcase to the theatre production of Disney's The Little Mermaid, Author Talk with alumna Rachelle Dekker and the PA program 40th anniversary celebration. For the most up-to-date schedule, visit www.trevecca.edu/homecoming.
3. You can help start something new.
Homecoming isn't just about old traditions. Sometimes, it's about starting something new. This year, you can help kick off the first-ever Give Back Thursday, a giving event scheduled for November 3, and a revamped Trojan Madness event to kick off the basketball season.
4. It's the official start of the holiday season.
Maybe that's over-selling it a bit, but it's not fall until you've been to Homecoming. From the colorful leaves, the crisp fall air and the family and friends hanging out on the Quad.
5. You'll be reminded how much Trevecca matters.
Homecoming is a time to see old friends and enjoy the festivities, but it's also a chance to interact with current students. Trevecca made a lasting impact on your life, and when you come back to campus, you can see how that legacy continues in the lives of today's students. You'll meet inspiring students on Trevecca's campus, from advocates for social justice to entrepreneurs as well as church, community and business leaders. Our students are our greatest gift to the world, so don't miss out on an opportunity to come back home to the place that shaped you and meet the next generation of Trevecca grads.