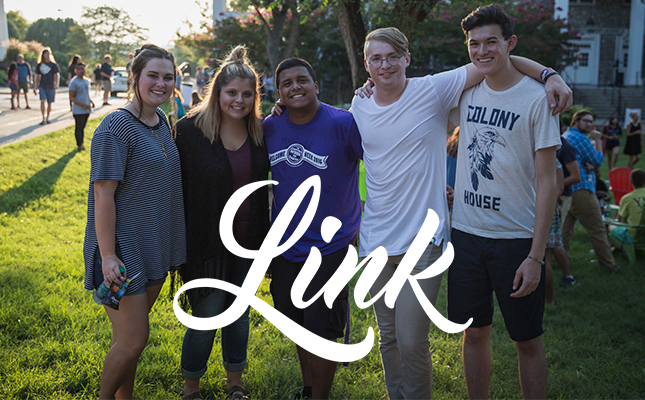 Trevecca's New Student Orientation kicks off on Friday morning, and we can tell you one thing for sure: you're going to hear the word LINK an awful lot.
It's right there on the schedule, set from 2:30-4:45 p.m. on Friday: New Student LINK groups. So what exactly are LINK groups and who in the world will you be meeting with?
Our New Student LINK groups are more than just a mandatory class; they're designed to help new students transition into life at Trevecca. From finding your way around campus to learning how to register for next semester's courses, LINK is designed to make your first year at Trevecca the best it can possibly be.
Every incoming freshmen or transfer student is assigned to a LINK group. Each group has a leader and a peer mentor. The peer mentor is a current student who's been in your shoes, someone who knows the ropes and is ready to show them to you.
LINK groups are more than learning about Trevecca and figuring out how to get around, though. Your LINK group is an important opportunity to learn about yourself. Over the course of the year, you'll take various personality tests and quizzes, and you'll face questions that will challenge you to grow and develop.
Spending time with the same small group of people each week means you'll get to know each other better and build community within your group. Getting to know different people with different stories is one of the best parts of LINK. Later on in your college career, it's pretty cool to look around campus and see the people you've gotten to really know from your LINK group experience.
Megan McGhee, Jen Neeley, and Jeff Swink have all been a part of Trevecca's LINK group program for a number of years and have seen the program grow and develop. Their offices are in the Center for Leadership and Service (we call it "the CLCS," and so will you soon!) and they'd love to talk to you about making the most of your LINK experience. Feel free to contact them using the information below.
Megan McGhee
Coordinator of the Freshmen Year Experience
615-248-1627
mmcghee@trevecca.edu
Jenn Neely
Coordinator of Sophomore Year Programs
615-248-1237
jneely@trevecca.edu
Jeff Swink
Coordinator of Assessment & Retention for Leadership, Calling & Service
615-248-1445
Jswink@trevecca.edu