Wilcox Talks Music Business, New Book on Paul Winkler's Investor Coaching Podcast
| Faculty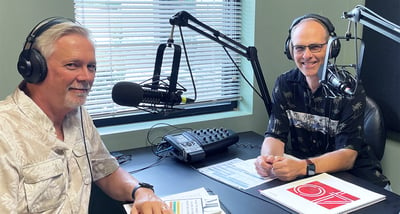 Serving as a voice of extensive industry experience is something many of Trevecca's faculty members have in common, and at times that depth of knowledge brings an opportunity for special exposure.
Trevecca Music Business Program Director Dr. Vince Wilcox is one of those trusted subject matter experts, and recently the music industry veteran and entertainment attorney was featured on a top-streaming financial podcast to share his expertise – much of which he'd also published in a new book.
During a two-part podcast about the music business on The Investor Coaching Show with Paul Winker, Wilcox fielded questions about the financial health of the music industry, the various income opportunities available and how one can prepare for a career in the music business. Many of the topics from the interview were from Wilcox's new book, How to Make a Living in the Music Business.
"These resources encompass the fundamentals of the music business that I've learned in more than 40 years in this industry," Wilcox said. "I've written it for those who aspire to become successful industry professionals as well as for artists who want to make sure they're making smart career choices. And if they want to go deeper, I'd love to talk with them about pursuing a bachelor's in business administration degree with a concentration in music business at Trevecca. This program is taught by active industry professionals and includes 200 hours of hands-on internship opportunities."
The two podcast episodes from The Investor Coaching Show with Paul Winker featuring Wilcox can be accessed here:
Part 1: Understanding the Music Industry with Vince Wilcox
Part 2: How to Make a Living in the Music Industry with Vince Wilcox
How to Make a Living in the Music Business is available through Amazon and Kindle, and Wilcox's 25-hour online course is available at www.musicbusinessbasics.com.
Winkler, himself an avocational musician, runs Paul Winkler, Inc., a Nashville-based investor coaching, financial planning and investment management services company that offers advice based on statistical models rather than commissionable sales of proprietary financial products. His podcast has regularly been one of the top ten investment podcasts on the internet.