Power Play: Trevecca grad shares about working in the Preds organization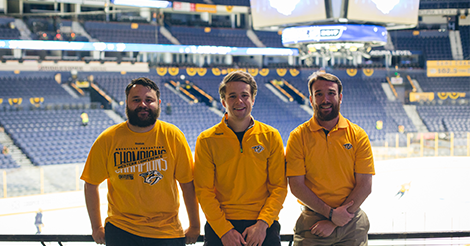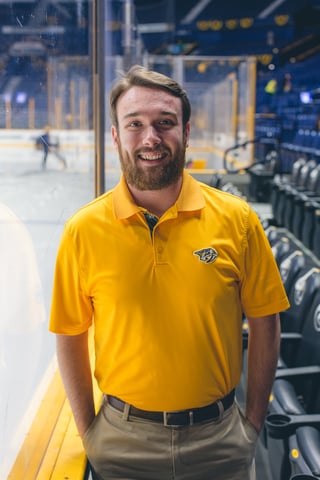 With flags hanging high, jerseys and hats in every direction, and catfish flying, it's easy to see that Nashville is ready to bring home the Stanley Cup.
As the series heads to Nashville for Game 3, we'll be sharing what this experience is like for some of Trevecca's own who are working inside the Predators organization.
Zach Williams, a Trevecca graduate, is a guest experience coordinator for the Preds. He took a little time out of a busy schedule to talk about his experience with the Preds, the excitement around the Stanely Cup, and how Trevecca influenced his career.
Explain your job. What are your responsibilities within the organization?
My title is guest experience coordinator. My main responsibility is to manage over 500-plus season ticket holder accounts … I am here to help answer any season ticket holder questions, add seats to their accounts, manage their monthly payment schedules and make sure that they enjoy themselves while at Bridgestone Arena, no matter what event we are hosting.
What is the best part of your job?
The best part of my job is being able to create lifelong memories for season ticket holders. I grew up a Preds fan, and I remember being upgraded to better seats, being given autographed items and getting to experience all of the golden moments as a kid, so I love being able to do that with fans now, to create a lasting experience for them.
What is it like being a part of the Preds organization and going to the Stanley Cup?
Being a part of the Preds organization is a dream come true. Growing up in Nashville and playing hockey, this was always where I wanted to be. I couldn't have asked for a better year to start my career in sports. Between the NHL All Star game being here last winter and us playing for the Stanley Cup this year, I can't imagine being any place else.
What has been the best moment this season?
I think the best moment for me this season was us sweeping the Blackhawks in round 1. As an organization, everyone was already bought in that we were going all the way, but after that series you could really tell the entire city was taking notice and knew this was going to be a special run.
How has your time at Trevecca influenced your job with the Preds?
Trevecca influenced me in so many different ways with my job with the Preds. However, the biggest thing would probably be the service aspect. Serving can come in many shapes and forms. However, when handling people it is so important to have a service mindset. To be kind, to be understanding, to listen to others, to encourage those that are going through a tough time are just a few things that come to my mind when I think of service in my position. Ultimately, just having a Christ-like attitude constantly has to be the biggest influence on my job. People take notice of it and can see that by the way you act and handle people, there is something different about your personality and who you are.