Packing for college? 8 items you'll want to add to your list this fall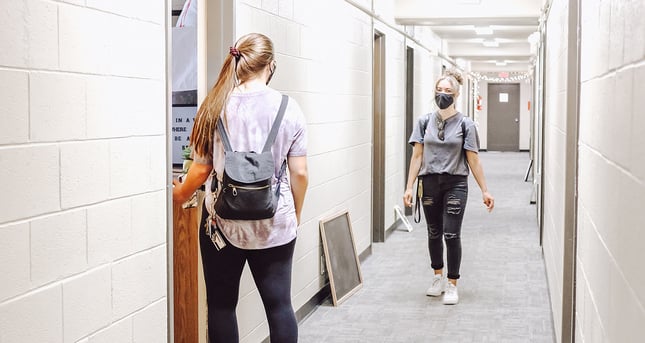 Congratulations! You've successfully graduated high school in the midst of a worldwide pandemic. College is just around the corner, and you've scoured Pinterest for all the items that are going to make your freshman year successful. Water filter? Check. Coffee pot? Check. Philips-head screwdriver? Double-check.
But college, much like everything else, is going to look different this fall, and your packing list is going to look different too. There's no playbook for your freshman year in a COVID-19 world, but that's OK. You can still prepare as best you can and make your freshman year one to remember.
Here are a few items to help you transition from life at home to life on campus.
A mattress topper
If you ask almost any upperclassman what the biggest necessity in college is, sleep is very likely to be the answer. So, what's the best way to make sure that happens? Transforming your standard-issue twin bed into your perfect nap space with the simple addition of a mattress topper.


A reusable mask
They come in every color of the rainbow, so why not try a purple and white one? Or you can get one with your favorite superhero on it, or just stick with the traditional black cloth. Masks will be a must, especially in classroom and group work settings, so be sure to pack one or several. Trevecca will also provide two reusable face coverings in your COVID Care Kit.


Extension cords
These are a must, seeing as there are so many more things that you need to plug in at once than you realize. It's easy to run out of outlets, especially if you add in all the electronics you'll need to recharge as well. Put your mind at ease by adding some extension cords/outlet strips to your shopping cart so you don't have to decide between charging your phone or using your computer!


Room essentials
While some parts of campus life will look different this fall, others won't. If you're living on campus, you're still going to need all the items that make your room or apartment feel like home. That includes sheets and pillowcases (be sure to get the extra-long twin size!), decorations, pillows, a bedspread/comforter, towels, hangers, rugs and more. And you're going to need to wash those towels sometimes, so make sure to bring laundry detergent, a drying rack and anything else you think will help keep your room and clothes fresh and clean. Check out this

list

for other items to consider.


Reusable water bottle
Ask any pre-med or PA student on Trevecca's campus and they'll tell you that one of the best things you can do to support immune health is to stay well hydrated. And that can be surprisingly easy to forget when you're running from class to class! Water fill stations will be widely available across campus so bring your own bottle so you can stay hydrated and help keep our campus healthy!


Cleaning Supplies
As part of our

Trevecca Community Commitment

, we're calling all members of our campus community to help keep your spaces clean—and that includes residence hall rooms, common spaces and apartments. While cleaning supplies and disinfectant will be available for your use in residence halls, go ahead and plan to do your part. Periodically, sinks, showers, and desks will all need to be wiped down. You'd do well to have some paper towels or reusable cloths or towels on hand. Just remember to wash those cloths or towels on a regular basis!


Pocket hand sanitizer
A sink and soap aren't always just around the corner, and handwashing is also a big part of Trevecca's Community Commitment. The University will provide hand sanitizer at locations throughout campus, but it won't hurt to have your own supply or a travel bottle to stash in your backpack. For those times when you're in a rush, pocket hand sanitizer is the way to go.


Storage options
Organization is key in college—and keeping your stuff contained will also play an important role in maintaining a clean, virus-free room. You can purchase an over-the-door organizer for everything from electronics to shoes and under-the-bed storage bins and desk organizers may also help you find a place for everything from bulky sweaters to cleaning supplies or paper goods. There's no reason to be disorganized with all these options!
Join us in pledging to follow the Trevecca Community Commitment this year. Commit to protecting yourself, loving your neighbor and caring for our campus community—and that can start with what you pack!