Trevecca Community Commitment: Practical Ways to Love Your Neighbor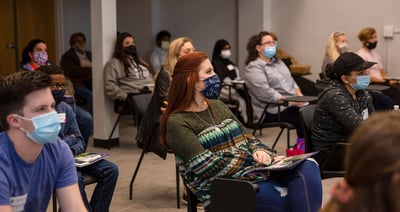 It's a new year and a new semester is just around the corner. While our minds are focused on fresh starts and new habits, one thing that won't change in 2021 is our commitment to keeping our campus safe and healthy in the middle of a global pandemic.
So as you make plans to return to Nashville, take some time to review our Back Home to the Hill Plan (some protocols have been adjusted to reflect current Centers for Disease Control guidelines) and the Trevecca Community Commitment.
But more than that, spend some time thinking about concrete (COVID and non-COVID) ways you can live out Commitment 2: Love My Neighbor. In case you're having trouble thinking of ideas, here are a few we came up with.
Commit to wear your mask. Our policy is that all members of our campus community wear face coverings in class, outside of their offices, in group settings and in all situations where social distancing is difficult. Loving your neighbor is about putting someone else's needs before your own. Wearing a face covering is a great way to make the needs of Trevecca community members who might be immunocompromised or at higher risk for the virus more important than your own.


Reach out. We're welcoming new students to campus this semester, and some students will continue to learn via our remote option. Reach out to students you meet in your classes and get to know someone new! Seek out students who may not be as outgoing as you are and find ways to help them feel more comfortable in new settings. Social distancing may make campus events look a little different these days, but be on the lookout for ways you can meet people where they are and develop or deepen relationships with new and old friends.


Pay attention. "We're all in this together" may be the tagline of the pandemic, but there is truth to that statement. One way you can show your support is ensuring that others feel safe and protected on campus. Abide by health and safety protocols. Be mindful of others' personal space and practice social distancing. Understand that while you might be comfortable with easing up on certain health and safety protocols, others may not be. Love your neighbor and practice what makes him or her most comfortable.
As you move back into your residence hall or apartment or plan to return for in-person classes, seek to find ways you can love your neighbor—and that includes your professors, fellow students and staff members.
(And take a few minutes to learn more about the Trevecca Community Commitment and Trevecca's Back Home to the Hill Plan. Make the choice now to ensure our Spring 2021 semester is safe, healthy and fun!)