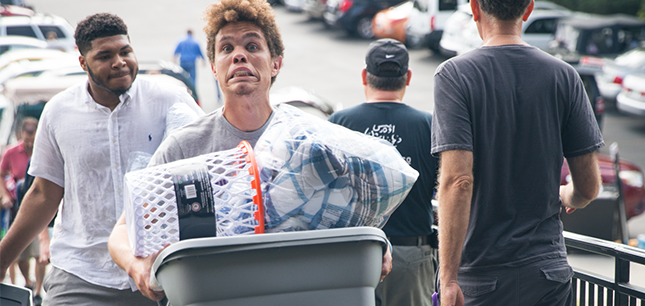 You're about to move into your room in the residence hall, and you're wondering what to pack. Use this list as a guide, but feel free to personalize to your own needs.
Keep in mind that it may be best to purchase some of these items after you get to campus. Be sure to review the information about room dimensions and provided furniture here.
Room Needs
Lamp (or two!)
Alarm clock/clock radio
Trash can
Storage bins
Fan
Drying rack for laundry
Decorative items
Dry-erase wall board
Mini toolkit (including screwdriver, hammer, wrench)
Command Strips for hanging pictures
Carpet or rug for your room
If you want to use a bedloft, University-approved lofts are available for lease at www.bedloft.com.
Linens/Laundry Supplies
Sheets and pillowcases (You'll probably want a couple of sets and make sure they're extra-long twin size sheets!)
Towels
Shower curtain and rug
Pillows
Mattress pad
Blanket
Comforter/bedspread
Clothes hangers
Laundry bag/basket
Laundry supplies (detergent, fabric softener, etc.)
Supplies & Electronics
Your personal computer, if desired
USB flash drives
Stapler and staples
Pens and pencils
Notebooks
Folder with pockets
Sticky notes
Paper clips
Rubber bands
Tape
Scissors
Highlighter pens (multiple colors)
Surge protector
Extension cords
Headphones
Don't Forget!
Personal items and decorations
Snacks
Medicines, pain relievers, Band-Aids®, etc.
Toiletries
Coffee mug and a few dishes
Water bottle
Paper towels
Dish soap
Silverware
Umbrella
At Trevecca, you can have a microwave (may not exceed 900 watts) and fridge (may not exceed 6 cubic feet) in your room. Any appliances with exposed heating elements and candles, incense and open flames are not permitted.

Good news! On Move-in Day, Trevecca will have people available to help you move your belongings into your residence hall. To help aid the move-in process, please label your items with your first/last name, the name of your residence hall and room number.