How You Can Participate in Giving Back Day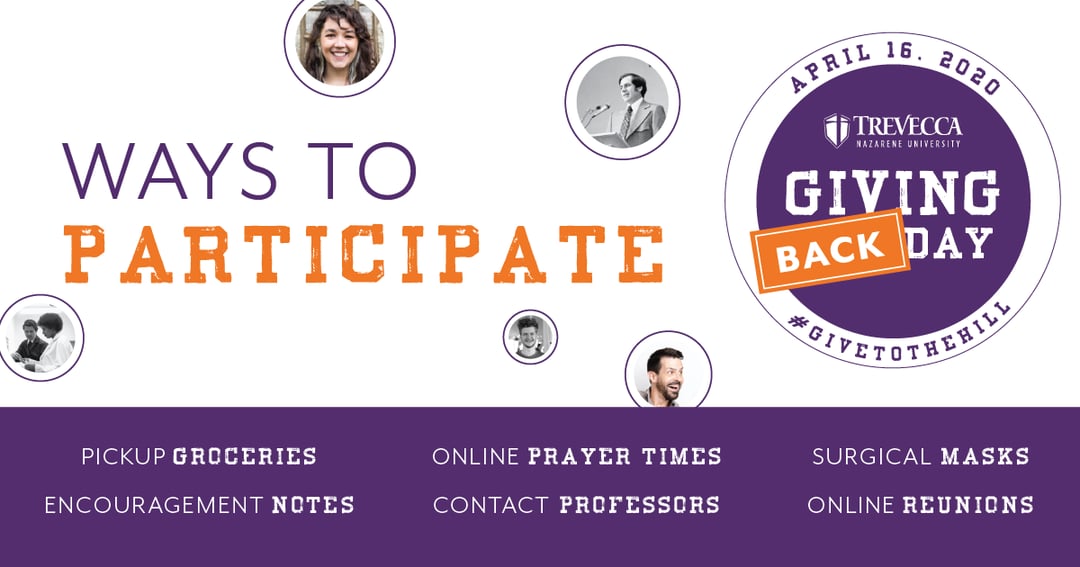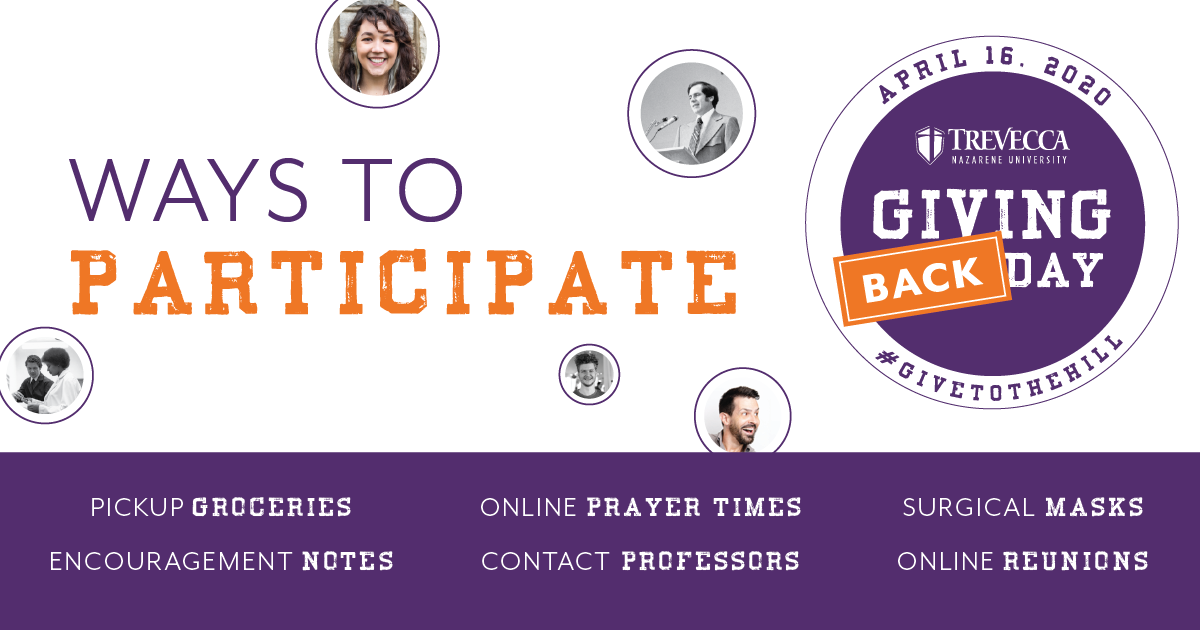 Giving Back Day is here, and you may be wondering how you can get involved. A designated day to live out Trevecca's motto—Esse Quam Videri, to be rather than to seem—Giving Back Day is a chance for you to make the most of this moment and "give back" in your community, your world and your University.
Here are a few ways you can give back today.
Stop by

Trevecca's Alumni and Friends Facebook page

and leave us a note. Giving Back Day is a chance to reconnect with fellow alumni, neighbors and friends as well as your alma mater. We'd love to hear how you are doing.


Organize an online reunion. Zoom, Microsoft Teams and a variety of other technologies make it possible to "get together" even if you're far apart! So use this day to reconnect with Trevecca friends and faculty.


Support Trevecca's Student Emergency Fund. This crucial fund assists students and their families affected by both the COVID-19 outbreak and the recent tornadoes.


Get creative and share! Show us a video of you demonstrating a special skill that would be uplifting for our community to see, such as cooking, crafting, music and more. Share your favorite "quarantine" recipe or a meme that made you truly laugh out loud. Is your church doing something creative to minister during this time?

Share it on our Facebook page! We want to see what you're up to.


Write a note of encouragement to a current college student

who is now working remotely to complete semester coursework. Students in on-campus classes—whether bachelor's, master's, doctoral or degree-completion—may feel discouraged by the sudden switch to remote instruction. Reach out and encourage them! We're all in this together, and our current Trevecca students may need to know you're cheering for them.


Participate in an online directed prayer time

with other Trevecca community members. This will begin at 3 p.m. on

Trevecca's Alumni & Friends Facebook page today.


Contact another alumnus or a former professor. This could be someone with whom you maintain regular contact or maybe someone you haven't seen in years who made an impression on your life.


Pick up groceries

(or purchase a gift card) for someone in need. For many, COVID-19 has created unexpected expenses or even job loss. Anything you can give to help would be appreciated, so make today a day to make a difference.


Make surgical masks for health care workers. You can use

this pattern

as a guide.


Share a prayer request or respond to others' prayer needs. During Giving Day, we're encouraging the Trevecca community to spend time in prayer for each other, for those affected by COVID-19 and for health care providers as well as those leading our communities, states and country.


Offer your own Esse Quam Videri story. It could be how your church is helping feed the homeless or how your children are encouraging an elderly friend or family member. We want reminders of all the good that's happening in our world!

Share with us on Facebook.
The biggest reminder to us of the good that's in the world, is you—our students, alumni and friends of the University. Giving Back Day is a time to celebrate all that makes the Trevecca community so special.