Dear Old TNU: 8 Ways YOU can participate in Trevecca's virtual Homecoming celebration
| Events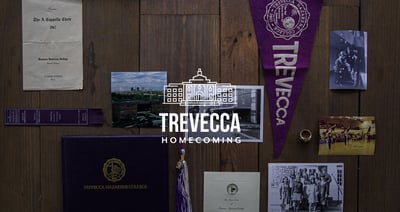 At Trevecca, Homecoming Weekend is a treasured tradition for alumni and current students alike. While the festivities may look a little different this year, the fun, connection and celebration will still be at the center of the celebration as Homecoming goes virtual. No matter where you are, here are a few tips to help you—our alumni—honor Dear Old TNU and make the most of Homecoming Weekend 2020!
Join us for Virtual Founder's Day Chapel.
Founder's Day Chapel kicks off Homecoming Weekend every year, and that tradition isn't changing this year! This year's virtual event will include a presidential address from Dr. Dan Boone, Trevecca president, and more! Founder's Day Chapel will premiere on Nov. 6 at 10 a.m. CST on Trevecca's

Alumni and Friends Facebook

page.


Tune in to the nightly Town & Country Showcase features.
Another perennial Homecoming favorite, Trevecca's Town & Country Showcase will feature performances by student and alumni vocalists, musicians and performers. A new segment of the Showcase will premiere nightly at 7 p.m. CST, Nov. 2-6. The entire Town and Country Showcase will be available at 7 p.m. CST on Saturday, Nov. 7. Everything will premiere at Trevecca's

Alumni and Friends Facebook

page.


Host a watch party.
Homecoming is about gathering with family, friends and fellow alumni. Honor that tradition by hosting a (socially distanced) watch party with nearby alumni. Find ways to incorporate your favorite aspects of Homecoming at Trevecca, from a Nashville-themed menu to watching feature events like Founder's Day Chapel, the Town & Country Showcase and MOSAIC (student-written one-act plays) together. Take it one step further and host your own Dear Old TNU-themed parade in your neighborhood or backyard! Make sure to order your Homecoming Watch Party Kit at

trevecca.edu/Homecoming

.


Tell your story.
Community is at the core of who we are at Trevecca, and no celebration of Dear Old TNU is complete without acknowledging the people who have helped shape and form us. Is there a Trevecca faculty member past or present who had a long-lasting impact on your life? Share your story with us at

trevecca.edu/tellyourstory

, so we can encourage our faculty members with your stories. Want to take it one step further? Donate to Trevecca in honor of a faculty member who made a difference in your life and help us make a difference in the lives of current and future students!


Join Trevecca on Handshake.
If you want to keep the celebration going long past Homecoming Weekend, Handshake is one way to make that happen. Whether you own a business, have an internship or lead a team with a job opening, Handshake can help you find a Trevecca student or alumnus to hire.

Learn more.




Listen to a Purple Ties podcast.
Athletics are a key component of every Homecoming Weekend at Trevecca—and this year is no different. Listen to a Purple Ties podcast to catch up with the latest about Trevecca's athletics program and check in with current coaches, athletes and alumni. Watch the latest episode or catch up.


Show your support.
Homecoming may be virtual, but that doesn't mean you can't interact with friends, classmates and other Trevecca alumni. Throughout the weekend, be sure to check out the University's official social media platforms. Join the conversation by sharing some of your favorite photos from your time at Trevecca as well as special memories at

Trevecca's Alumni and Friends Facebook page.




Host a virtual reunion with your Trevecca friends.
Whether it's your 10-year reunion or your 50th, use today's technology to gather with classmates across the country and around the globe during Homecoming Weekend. You may not be able to gather on the Quad this year, but you can catch up using Zoom, Microsoft Teams or a variety of tools that allow you to host virtual meetings from your home. So, send out the meeting invitation and make plans now to connect with the classmates who made your Trevecca experience so special.

We can't wait to celebrate Homecoming 2020 with you! Learn more about the weekend and how you can get involved at www.trevecca.edu/Homecoming.