How to Maintain a Mindset of Perseverance
| Mission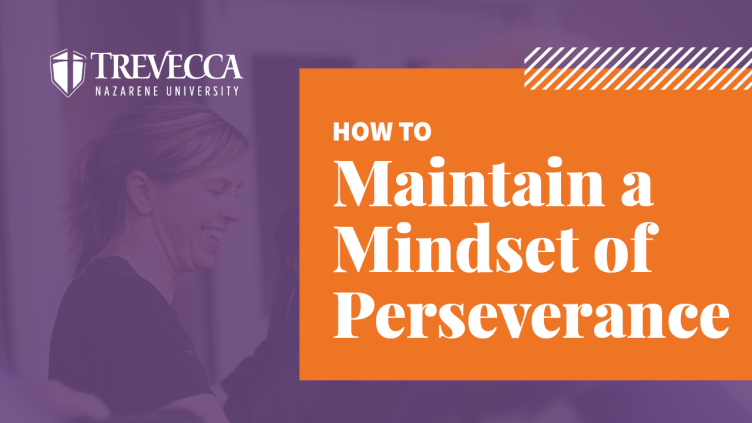 When I was a teenager, I kept a journal loaded with inspirational quotes. While most of those teenage quotes didn't stand the test of time, one quote has stayed with me all these years later: Keep on keeping on. I remember growing up and feeling like I was always being tested, and this quote constantly inspired me to have a mindset of perseverance, no matter the test.

Little did I know the biggest test of my life would begin when I was 25. My daughter was six months old, and we noticed she wasn't progressing as expected. For the first two years, doctors told us she was delayed, but there was nothing to do except wait it out. No tests, no help, only suspicions and angst. When she turned three, the doctors finally gave her a diagnosis: she was on the autism spectrum.

After the diagnosis, I thought I'd find sweet relief. We finally had doctors on our side and a helpful diagnosis. However, instead of relief, I started to blame myself for her diagnosis, thinking that I did something to cause her autism. I was always in tears, trying to find a way to balance the diagnosis with my emotions and all the extra appointments and therapies. I was working full time, racing from work three times a week to get my daughter to therapy while battling Nashville traffic. Nashville traffic alone isn't for the faint of heart! Add on all the extra challenges and the negative thoughts racing through my mind, and my ability to be rational quickly flew out the window. It took me five long and lonely years before I would be able to talk about this hard chapter of life.

But the fog slowly lifted, and I was able to emerge from the storm. I knew that my daughter needed to see me fighting for her and sticking with her. Deep down, I knew this all along, but we humans tend to lose the ability to think rationally when faced with overwhelming, life-altering challenges. Thankfully, my perspective began to shift from one of blame and guilt to a mindset of overcoming and perseverance. I knew I had to keep on moving forward in a manner that would make my daughter proud.

Today, my daughter is 14 and thriving. She plays volleyball and basketball (despite a rare eye condition that makes it hard to track a ball). I'm so thankful I decided to shift my mindset in her early years, what a difference it has made! Looking back, I can see how this challenge birthed the overwhelming desire in my heart to help others change their perspective so they can reach their full potential.

I've held many jobs since college, but none has been more fulfilling than my current role at Trevecca. As Dean of the School of Leadership and Interdisciplinary Studies, I am privileged to teach students how to develop teamwork skills. But equally important, I get to teach them about life. I often find myself in a counselor's role of sorts, as students let me into their lives and share their own challenges. Some students are dealing with hard things like loss and health crises, while others are overwhelmed with the expectations related to school. No matter what obstacle they face, I try to remind them that with the correct mindset and the ability to persevere, they can accomplish almost anything they desire.

As I counsel and teach students, I am always looking for opportunities to encourage them with principles to help them cultivate a mindset of perseverance.
What is your why?
I often ask students "why"- why are they in school and getting this degree? Why do they get out of bed every day and keep going? Whatever the reason, I encourage them to keep it close to their hearts and their minds. Write it on a sticky note so they can see it every day! It's always important for students to use their "why" as motivation to keep going when things get difficult.
Evaluating your state of mind
Do they find themselves using a lot of negative self-talk? Our brains are powerful and can steer our thinking. I encourage students to train their brains to develop a positive line of thought. Trading negative self-talk for positive self-talk can make all the difference!
Reflecting on past experiences
Where did they begin this journey, and what are some obstacles they have overcome along the way? I have found that looking back and seeing how far I've come gives me the motivation to keep moving forward. It helps me keep a mindset of perspective and helps me keep going. The idea is for the students to see how far they have come- it helps encourage their effort, their progress, and the process.
Self-regulation and modeling
If students can learn to self-regulate their difficult emotions, they are ahead of the game. I encourage students to find outlets for stress- exercising is my favorite way to deal with hard things and balance myself. Once students can self-regulate, modeling how to handle their emotions and actions becomes a great learning tool for others!
Building relationships
No matter what season of life you are in, you cannot rely on yourself to do it all. It takes a village! I always encourage students to build relationships with those in their circle. Find other students with similar interests or common needs. Serve each other and put in the effort, and soon enough you will have your own little village of friends.
Kara Lawson, a college basketball coach and former WNBA player, said to her players in this YouTube video, "It will never get easier, but you will handle hard better!" Life does not get easier, but we can adapt, grow and handle the hard because we must. Every day will bring its own set of challenges, but if we know our "why" and have a mindset of perseverance, the journey is completely worth it. Keep on keeping on!
Kristin Bledsoe is dean of Trevecca's School of Leadership and Interdisciplinary Studies. Follow Kristin and Trevecca on LinkedIn for more resources like this.