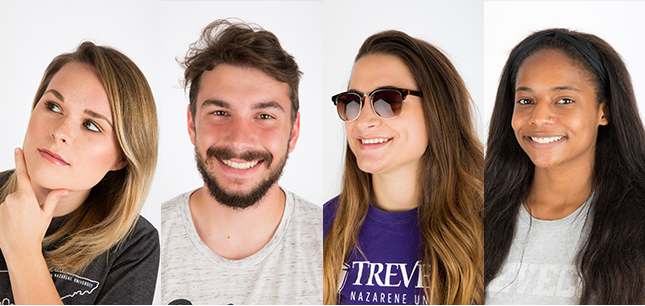 Orientation is here and at some point over the next two days, you'll be getting your picture taken for your student ID. Truth be told, it's difficult to find someone who LIKES their ID photo. Ask almost any upperclassmen at Trevecca, and they will probably tell you they wish they would have woken up a little earlier on photo day their freshman year, now that they are stuck looking at the same terrible picture every day as they scan their card at the Caf.
Before you get discouraged, though, we want to save you from the same fate. Here are some DOs and DON'Ts for all you freshmen out there about to take one of the most frequently seen pictures of your college care. No pressure!
DO
Smile! Stay away from the classic "mug shot" photo and flash those pearly whites.
Sit up straight. Posture is important!
Follow the rules. Stay in school dress code.
Consider the weather. You're going to get your photo taken whether it's humid, raining or windy. All of those things can leave you looking a little disheveled. So take a glimpse in the mirror before your photo shoot or ask a friend in line to make sure your hair and clothes look OK.
It's all about the EYES. We don't need any dramatic gazes into the distance for this photo-op. Keep your eyes on the camera, and make sure they are open wide!
DON'T
Wear sleeveless shirts. Although this trendy style may seem like a great summer option, stay away from wearing sleeveless tops and dresses. Your ID photo will only show your face and a bit of your shoulders, so if you do choose sleeveless, make sure the straps are wide to avoid looking shirtless.
Stay up late the night before your photo-op. With all the excitement of orientation, it's tempting (and likely) for students to stay up late the night before the big photo op. Rest is important, so for the freshest looking face, get a good night's sleep the night before.
Moisturizers that are shiny/shimmery. Stay away from moisturizers, makeup and—yes, even sunscreen—that have a lot of shine. Faces wearing a lot of shimmery, reflective product tend to look oily and shiny.
Reflective glasses. Save your super reflective sunglasses for the sun! For those students who wear prescription glasses in their photos and always end up with a glare across them, here's a tip: tilt your head slightly downward when taking the photo. It will reduce glare from the flash of the camera from hitting your lenses straight on.