Fail, Learn, Excel: The Art of Failing Forward
| Mission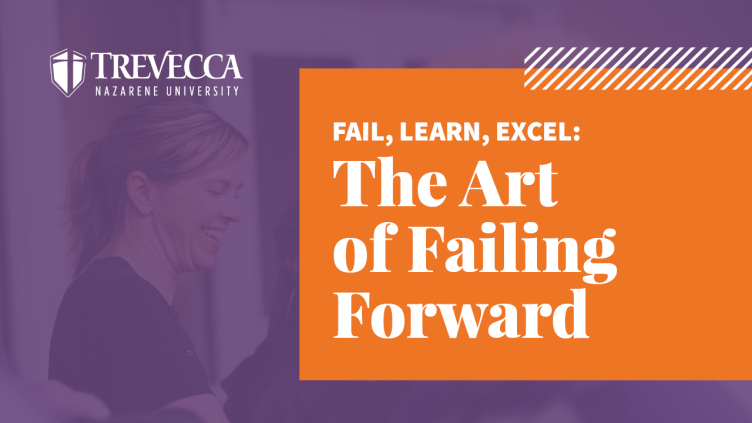 We all face challenges, obstacles, heartache, and failure—it's an inescapable part of life. Some people fail and never try again, while others fail and learn from their experiences. I've learned that our mindset and our willingness to grow often determine our response to failure.
Teddy Roosevelt, the 26th president of the United States, was no stranger to adversity. He had debilitating asthma, his mother and his wife died on the same day, and he faced numerous career challenges. Despite these hardships, he grew in knowledge and experience to become one of the most charismatic and successful figures in history.
Roosevelt's ability to use adversity to grow and move forward helped him achieve incredible success. The following excerpt from his speech, The Man in the Arena, hangs in my living room as a daily reminder to keep growing and never give up:
"It is not the critic who counts; not the man who points out how the strong man stumbles, or where the doer of deeds could have done them better. The credit belongs to the man who is actually in the arena, whose face is marred by dust and sweat and blood; who strives valiantly; who errs, who comes short again and again, because there is no effort without error and shortcoming; but who does actually strive to do the deeds; who knows great enthusiasms, the great devotions; who spends himself in a worthy cause; who at the best knows, in the end, the triumph of high achievement, and who at the worst, if he fails, at least fails while daring greatly, so that his place shall never be with those cold and timid souls who know neither victory nor defeat."
I strive to be that person—the one who jumps into the arena and attempts to make a difference in the world, even if it means I could fail and be criticized. My goal is to always fail forward, to learn from my mistakes and to cultivate a growth mindset.
So, what exactly is a growth mindset? The graphic below sheds insight into the thoughts of people with a fixed mindset versus those with a growth mindset.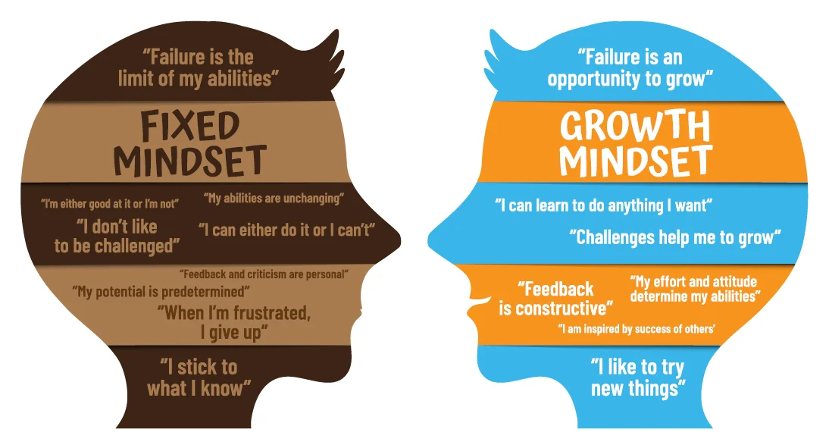 Whether you find yourself having a fixed mindset or a growth mindset, there is always room for improvement. Changing our habits and thought patterns is hard, but we can be open to growing! Here are a few things I do to cultivate a growth mindset.
Analyze the Failure


I'm often asking myself questions and trying to learn from my mistakes. What happened? Was it something I could control? What's next? What should I implement to see change? If we don't analyze, we don't grow. Focusing on the positive in any situation, while figuring out how to tweak the hard aspects, will push us towards growth.
I ask these same questions of my students when they aren't reaching their goals. One student failed a class two times, and after some self-reflection, decided to take time away from the program. During their time off, they realized their failure was not an indication of their abilities but rather a signal they needed to approach their studies differently. When this student returned to the program, they had a fresh mindset and a renewed determination to grow and overcome challenges.

Take Personal Responsibility


Our society is quick to give up and quick to cast blame. Growth occurs when we own our part in any situation, good or bad. When we take responsibility for our actions and make the necessary changes to move forward in a more positive way, we foster a growth mindset.

It's also important to analyze expectations—our own, as well as expectations put on us by others. When expectations aren't met, it can strain relationships and cause us to experience disappointment and self-doubt. Growth occurs when we take responsibility and communicate expectations with those in our circle, so that we can all move forward together.

Get Advice


Close friends, family, mentors, and coworkers can be a great source of guidance. If someone knows us well, they can share insight on our struggles and offer sound advice. They can help highlight things we aren't seeing and help us move forward so we won't feel stuck. We grow when we listen to other's feedback and direction.

Create a Plan


Now that you've done the mental work, it's time to figure out how to act on what you've learned. I often have my students do a vision board with action steps for a specific goal or I have them make a list of steps and add them to their calendar. The process of writing out steps helps solidify them in the student's head, and students will be more willing to circle back to the ideas and keep trying. Most importantly, do what works for you! Find a creative plan that appeals to you and encourages you to keep moving forward.

Move Forward and Jump into the Arena


While this step seems obvious, so many of us get stuck and fail to move forward. We can think and analyze and reflect and plan, but it means nothing if we don't act upon it! Implement your plan, take little steps each day, and ask friends to hold you accountable.

It's time to jump into the arena and live your best life, using your failures and successes to push you forward.
Earlier, I mentioned a student who had taken time off after they didn't get the results they wanted. When this student returned to the program, they used their renewed commitment, perseverance and improved study strategies to pass the course they previously failed and graduate from the program! This student discovered that their failures had been a valuable learning experience which allowed them to grow both academically and personally. Once feeling defeated and ready to give up, this student failed forward and transformed into a resilient person who overcame obstacles and found success in their pursuit of leadership.
Rather than viewing failure and adversity as a negative part of life, we can choose to embrace it as a learning experience and an opportunity to reflect on our strengths and weaknesses. True success is about courageously facing challenges, overcoming obstacles and striving to become the best version of oneself. May we not be those "cold and timid souls who know neither victory nor defeat," but instead may we jump into the arena and dare to live victoriously.

Dr. Kristin Bledsoe is a leadership educator currently serving as an Academic Dean for the School of Leadership and Interdisciplinary Studies at Trevecca Nazarene University in Nashville, Tennessee. She is also an associate professor, teaching in multiple programs from associate to doctorate level, with a strong understanding of online learning, teaching, and engagement. Kristin is committed to enhancing the student experience and overall student success. She recently co-authored and published an article on Mentoring New Online Graduate Teaching Assistance in Taylor & Francis' Online Journal. Kristin's most recent certifications have been as an Emotional Intelligence Practitioner and Cognitive Behavioral Life Coach. Recently, she graduated from Tennessee Independent Colleges and Universities Association's (TICUA) Executive Leadership Institute.