A Day with Civil Rights Activist Dr. Charles Johnson to Celebrate Black History Month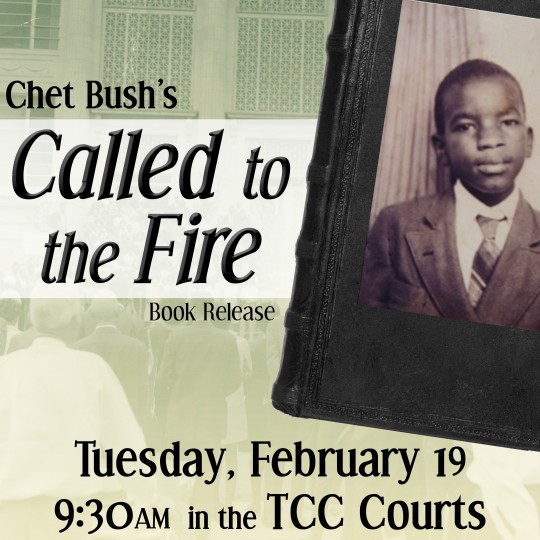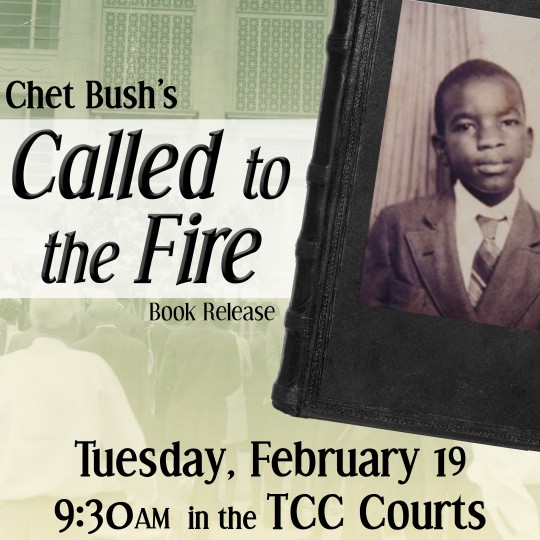 Abingdon Press and Trevecca Nazarene University Present: A Day with Civil Rights Activist Dr. Charles Johnson to Celebrate Black History Month
CALLED TO THE FIRE: A WITNESS FOR GOD IN MISSISSIPPI
Celebrated Civil Rights Activist Dr. Charles Johnson and Author Chet Bush Scheduled To Appear At Trevecca Nazarene University For Black History Month. Will Discuss Book "Called To The Fire" That Sheds Light On Faith-Based Commitment To Civil Rights. Book Offers Explosive Testimony During Infamous Mississippi Burning Case
When
Tuesday, February 19th
9:30am-Noon
Where
Trevecca Nazarene University
333 Murfreesboro Pike
Nashville, TN 37210
Schedule of Events:
9:30 – Chapel (main event)
10:30 – Book signing with Author and Dr. Johnson and media
11:00 – Second session and signing (in sanctuary)
Book Information:
"The last place on earth young Charles Johnson wanted to go was Mississippi..."
So begins this true story of Dr. Charles Johnson, an African American preacher who went to Mississippi in 1961 during the summer of the Freedom Rides. In Called To The Fire: A Witness of God In Mississippi, The Story of Dr. Charles Johnson (Abingdon Press, $21.99, January 2013), author Chet Bush, with the collaboration of Dr. Johnson, recounts his story during the civil rights movement set in 1960's Mississippi. As a key African American witness to take the stand in the trial famously dubbed the Mississippi Burning case by the FBI, Dr. Johnson's explosive testimony played a key role for the Federal Justice Department, offering clarity to the event that led to the Voting Rights Act of 1965.
This story of love, conviction, adversity, and redemption climaxes with a shocking encounter between Dr. Johnson and one of the murderers. The reader will be riveted by the details of a gracious life in pursuit of the call of faith from to the streets, and ultimately into the courtroom. The book concludes with Dr. Johnson's current work with interracial congregations that further his call even today. Information including audio, photos and preview information can be found here (http://www.calledtothefire.com/).
About the Author:
Chet Bush is a pastor/writer in Oxford, Mississippi. He received a bachelor's degree in Religion from Trevecca Nazarene University (1996) in Nashville, TN. He earned the Master of Divinity degree at Nazarene Theological Seminary (2000) in Kansas City, MO. Bush was ordained an Elder in the Church of the Nazarene in Houston, Texas, in 2002. He currently pastors the Oxford Nazarene Church, an interracial congregation in Oxford, Mississippi.
About Dr. Charles Johnson:
Charles Johnson came to Meridian, MS in 1961. Carrying a pastoral burden for the people he came to serve, he was quickly thrust into the very heart of the civil rights movement. Dr. Johnson is responsible for founding the Meridian Action Committee, for establishing the Opportunities Industrial Center in Meridian, and has served on a variety of civic counsels. He is a leader in the community, a leader on our Mississippi District, and a leader among pastors. Over the years Johnson has canvassed the country as a special speaker and singer for revivals and camp meetings. He has won himself to the denomination as an ambassador of the Deep South through the message of holiness and reconciliation.