Trevecca degree equips da Silva to help theatre company adapt during pandemic
| Alumni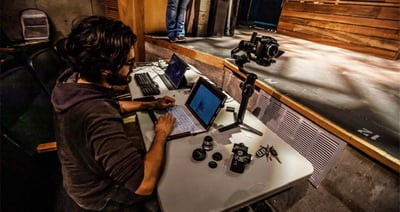 When Shakespeare penned "All the world's a stage" in As You Like It more than 400 years ago, he couldn't have envisioned that theatre majors would fashion stages with Zoom accounts, ring lights and laptops. But those are among the technical skills that proved vital for Trevecca graduate Pedro da Silva last year, as casts and crews had to figure out how to present audiences with distant, safe— and eventually virtual— performances.
A double major in dramatic arts and media arts/TV and film production, da Silva joined the staff at Playhouse in the Square in Memphis in 2020 as part of an internship at Trevecca. "Because of the pandemic, we weren't really doing much," he said of live theatre performances. "The uncertainty continued to push the season back, and with every delay, the staff felt more discouraged." By November, the company canceled all live performances.
"That's when online content became a bigger option," said da Silva. With live shows no longer possible, the company recognized da Silva's media-based skill set and created a position around that.
It was a move that benefited everyone. Of five virtual shows produced for the remainder of the six-month season, da Silva did video production for four of them. The theatre stayed open without any layoffs, and da Silva now serves as the playhouse's director of videography.
One of the things da Silva likes best about Playhouse in the Square is the collaborative effort of the staff, who he said operate like family. "It's a really good place to come after college," he said.
The only professional theatre company in Memphis, Playhouse in the Square is about to begin its 53rd season. Da Silva is excited to be part of it, and he sees opportunities to explore other areas of theatre now too, including his passion: stage management.
"I'm going to be able to put all that I learned at Trevecca to use. That was very helpful," he said, ready to make a return to live theatre. "I'm excited because the past year has been experimental. Theatre is about being in person and experiencing it in person, not virtually."
In part because of the technical side of his education, da Silva and the playhouse don't expect their final acts together to play out anytime soon.