Inaugural Issue of The Cumberland River Review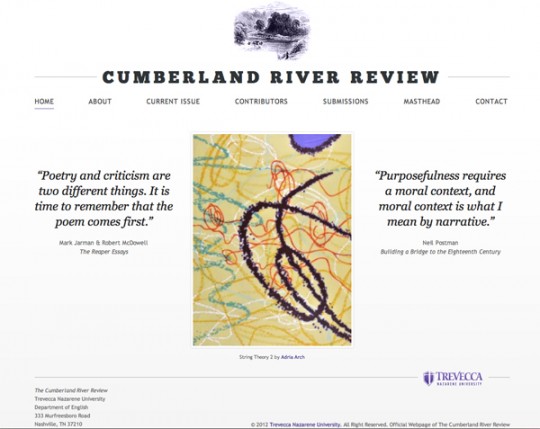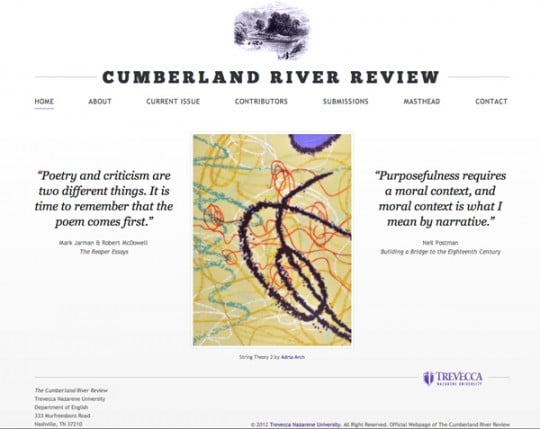 These are exciting times in the Trevecca English department, a fact that became newly clear to me early this week, when the inaugural issue of The Cumberland River Review, Trevecca's national literary quarterly, went live. Launching CRR has been a thrilling experience. Issue 1.1 features poetry by Lisa Dominguez Abraham, Bruce Bond, Joanne Diaz, and other fine poets; new work by the fantastic visual artist Adria Arch; and a masterful piece of short fiction by the Russian-American writer Margarita Meklina. Our contributors have been previously featured in such magazines as Agni, Third Coast, The American Poetry Review, and The Southern Review—journals of national reputation and significance. We believe that we're building something important, and we're excited for our magazine's future.
The Cumberland River Review is, to a much greater extent than most literary journals can boast, a student-edited project. Each week, our staff of fifteen undergraduates, working under a faculty editor, reads, comments upon, and casts votes for or against submissions from writers across the nation. On the first Wednesday of each month, the staff comes together for an editorial meeting, at which we argue, persuade, coax, and wheedle our way toward consensus. Competition is extremely fierce—an online quarterly journal, CRR publishes only nine or ten poems and one or two stories or essays per issue—and our only guideline is quality. We have rejected work from writers who've been in The New Yorker. We will likely accept someone's first published poem before too long.
Though any Trevecca student is welcome to apply for a place on the editorial staff, most of our editors are English majors or creative writing minors. Many are both. Students who work on CRR will leave Trevecca having gained experience usually reserved for graduate students: working with real writers on a real magazine. They will take their experience to jobs in publishing and editing, to creative writing graduate programs, to interviews with newspapers and magazines, and to many other places. We are so pleased to give them this opportunity.
Students interested in working on The Cumberland River Review or in learning about English or creative writing at Trevecca should contact Professor Graham Hillard at ghillard@trevecca.edu.