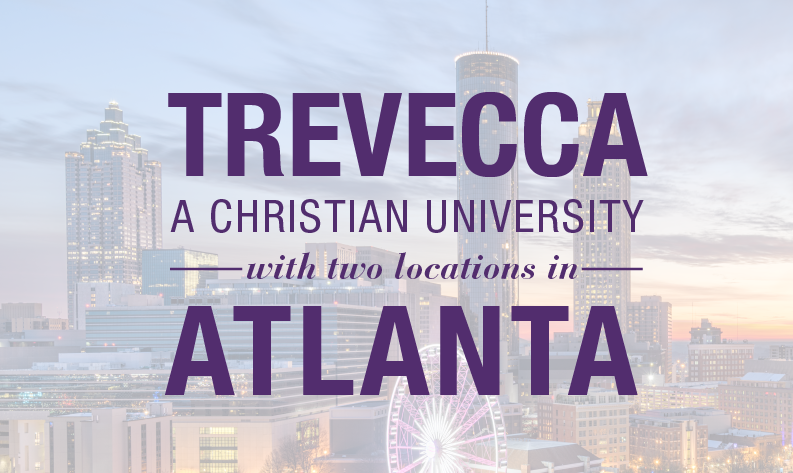 You may not know, but Trevecca is set to begin face-to-face classes in Atlanta next month. As we count down the days, we've also discovered a few things the two institutions have in common. Read on to learn more!
1. Atlanta and Trevecca already have a long-standing relationship.
For years, Trevecca has maintained a close relationship with The Salvation Army. Since 2004, Trevecca has provided educational services for cadets and officers in The Salvation Army's Southern Territory, headquartered in Atlanta. According to LinkedIn, hundreds of Trevecca alumni live in the greater Atlanta area, making their mark in a variety of career fields from education to healthcare and ministry, among others.
2. Trevecca has two locations in Atlanta.
Atlanta is one of the largest metropolitan areas in the United States. With sites in Duluth and College Park—located in the northeast and southwest sections of the metropolitan area—Trevecca is set to meet the educational needs of residents on either side of the city.
3. Trevecca's program format sets us apart.
Many colleges and universities call Atlanta home, but Trevecca is one of the few that offer a one-night-a-week class format specifically designed for working adults. In a city known for its rush hour(s) traffic, one-night-a-week classes and online offerings make a difference. Learn more.
4. Trevecca's Atlanta team lives and works in the city.
With classes set to start in October, Trevecca has a talented team at work in the greater Atlanta area. And our team—Dr. Shawn Thomas, regional dean of Georgia, and Mike Runyan, property manager and director of business development—are deeply invested in Atlanta. As Atlanta-area residents, each team member knows and loves the city—and is dedicated to helping Atlanta-area neighbors reach their educational dreams. Learn more.
5. Trevecca and Atlanta share a similar focus.
Atlanta is a city steeped in history, from the Civil War to civil rights. It's the capital of hip-hop and a diverse city that's home to more than 20 Fortune 500 companies. Atlanta acknowledges and appreciates its history but remains focused on the future—and so does Trevecca. Since 1901, Trevecca has offered quality education in a Christian community and was one of the first universities in Middle Tennessee to offer degree-completion programs as well as online offerings. Our face-to-face classes in Atlanta build on more than 100 years of academic tradition, but also look forward to the future.
---
Interested?
Click below to learn more about what Trevecca offers in Atlanta.