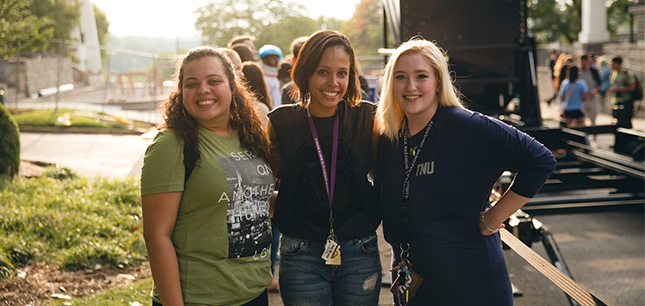 Students have been back in class for a few weeks and campus is probably starting to feel a little more like home. For freshmen and first-time college parents, the adjustment to the "new normal" may be getting a little easier, but don't worry if you're still feeling a little out-of-sorts. Here are a few tips to help you and your student adjust.
Help Your Student
Some people move off to college and never experience a twinge of homesickness. Others struggle with the adjustment to life away from home no matter how many times they've moved into the dorms. The thing is, homesickness is normal—and it often sneaks up when we least expect it. Help your student acclimate to college life by:
1. Encourage your student to acknowledge how he or she feels.
Really listen when your child expresses those feelings and resist the temptation to negate or invalidate them. Stress that it's normal to feel homesick and acknowledge that you're all going through a period of adjustment—and that's never easy.
2. Challenge your student to spend time on campus.
Whether your child attends college across town or across the country, it's natural to miss him or her. But instead of encouraging your student to come home every weekend or break, push him or her to stay on campus. Encourage him or her to get involved through clubs, intramural sports and other activities. Challenge your student to explore campus and get to know other students, faculty and staff.
3. Know about the resources the university offers.
Most colleges and universities offer various services designed to help students acclimate to life on campus and succeed in their classes and beyond. These include counseling centers, tutors, career placement and planning resources, first-year programs and more. Encourage him or her to take advantage of these services and talk to faculty and staff members who are there to help, such as residence hall directors and residence assistants.
Help Yourself
As a parent, sending a child to college is a big adjustment, particularly if it's your first time. It's OK to feel a little emotional as your family navigates the transition. Here are a few tips to help you.
1. Give yourself a little grace.
For many parents, this transition can be very difficult—with good reason. Sending your child to college reorders much of your daily life and it's easy to get caught up in all the things in your life that are different or not the way they used to be. Acknowledge that and be honest about your feelings, but don't make them the focus of your day-to-day life. Remember that the goal of parenting is to shape independent adults who can take care of themselves and make a difference in the world. While you're sure to feel your student's absence, focus on how this experience is growing and shaping them for the better instead of how things used to be.
2. Resist the urge to stalk your child on social media
.
Yes, you want to know what's happening in your student's daily life, particularly since you don't get to see him or her every day. But resist the urge to like every Instagram post or follow all their newfound friends on Facebook. Instead, figure out the mode of communication that's going to work best for you, whether that's a periodic phone call, daily texts or scheduled FaceTime chats. Give your child the space to be independent and make his or her own choices and keep the door for communication open.
3. Remember your child still needs you.
Understand this: your child may navigate this transition a little more easily than you. With classes, homework, intramurals, new friends and campus activities, he or she may not communicate as often as you'd like. But just because your student is loving life as a college student doesn't mean he or she has forgotten you. When the semester gets a little stressful, you may be one of the first people your child calls. He or she is still going to need your guidance, input and wisdom for many years to come. But now, as your student grows in independence and moves toward adulthood, you may need to wait to offer that advice until he or she asks.
---
Learn more
Click below to learn more about what Trevecca offers to help students feel at home on campus.