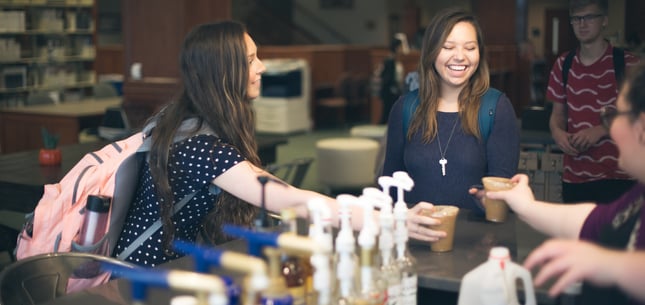 Do the baristas know your order before you even get to the counter? Want to try something new at Nineteen|01, but don't know where to start? We can help. Here are a few tips from one of our favorite on-campus baristas. It's a new semester, and both locations of Nineteen|01 are open and ready for business, so why not try something new?
Michaela Slown has been a Nineteen|01 barista for over a year and enjoys creating new drinks. Her creations range from "birthday in a cup," a soy milk frappe with vanilla, hazelnut and a cup of sprinkles to a customer favorite, "The Michaela," lemonade flavored with peach and raspberry. Her advice? Don't be afraid to branch out and experiment.
"We can make a piña colada smoothie or a caramel apple smoothie, people just don't realize we have the capabilities of doing it," says Slown. "It's your own kind of creativity, so whenever you come and order things, we can do it."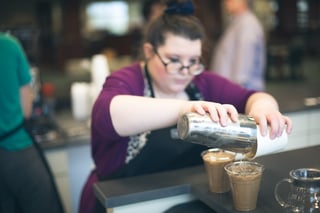 Overall, campus favorites include:
Caramel Crème
Chai Latte
Harvest Cider
Mocha frappe
More unconventional options to try include:
Juicy Coffee (Espresso and Orange Juice)
Coconut latte
English toffee frappe
Raspberry white mocha
The new Waggoner Library Nineteen|01 location is situated on the library's first floor. It's open during library hours. The original location, in the Center for Leadership, Calling, and Service in Bud Robinson, is open six days a week to meet your caffeine needs.