The Power of Shared Experiences
| Mission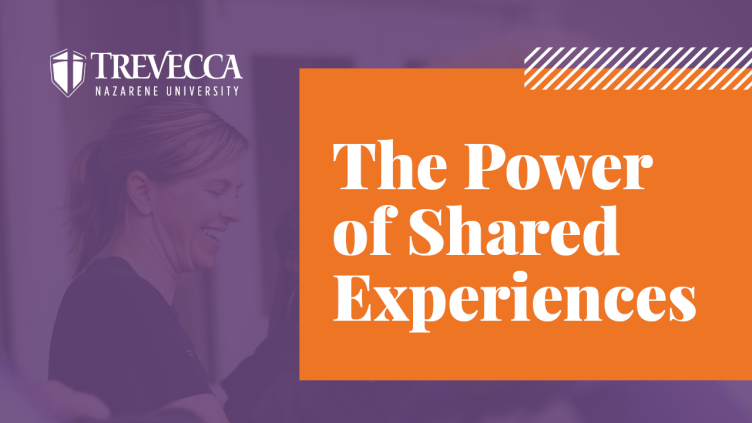 Picture a community where connections are formed, friendships are ignited, and barriers are shattered—all by sharing experiences. It's a community where unlikely friendships bloom, and individuals find common ground that binds them together. It seems idealistic, but I have seen this happen, and the results are life-changing.

Recently, my daughter had a beautiful encounter with another child at a volleyball camp. They discovered a shared passion and interest that had nothing to do with volleyball. As a result, they quickly bonded over their camp experience, found solace and mutual understanding, and developed a sense of belonging in each other's company. While my daughter usually finds it difficult connecting with others, this encounter reminded me how shared experiences can break down barriers and help us find the beauty in those around us.

We don't have to look far to find other examples of people changing lives through shared experiences. Consider Michael Phelps, the most decorated Olympian in history. His swimming career was wildly successful, but his mental health was the opposite—anxiety and depression had become his norm. In 2014, Phelps decided to discuss his struggles and seek help publicly. He found support and healing through therapy and eventually became an advocate for mental health awareness. Phelps collaborated with organizations like Talkspace to promote accessible mental health resources and to encourage individuals to seek help and share their experiences without fear or shame.

These stories demonstrate how shared experiences can empower and uplift not only the individual but also those who are on a similar journey. While we sometimes feel alone in our struggles, dreams, or joys, those who have walked a similar path often want to offer their support and friendship. By sharing our experiences, we can break down the walls of isolation and create bridges of connection. It only takes one shared experience to open the doors to friendship and understanding. Here are some of the ways shared experiences add value to our lives:

1. Connection and Belonging
One of life's most satisfying and vital aspects is forming healthy relationships with others. Deep and meaningful relationships provide a sense of belonging to something bigger than us, a safe place to vent, and a space of freedom to be ourselves. These relationships may be with your family, co-workers, friends at a gym, or a sports team, often centered around a shared experience or bond. I am an amateur photographer and have recently connected with other local amateur photographers in Nashville. We meet up, learn from each other, and have a great time!
If you find yourself wanting more connection with those around you, try picking up a new hobby or finding new ways to relate to those already in your circle. Volunteer at an organization that interests you or find a place to serve where you are already planted. You might be surprised to find you have something in common with your fellow volunteer or that co-worker a few offices down! Finding common ground with someone is the building block to connection, and it will foster a sense of belonging and encouragement.

2. Validation
Sometimes in life, we feel like no one relates to or understands what we are going through. However, when we share our experiences, we realize we aren't alone. Connecting with others, especially when they understand our struggles, makes us feel heard and validated. At the same time, putting ourselves in someone else's shoes and showing empathy toward their situation is important. In doing so, we get outside ourselves and continue the cycle of sharing, empathizing, and connecting.

3. Learning and Growth
When we share our stories with others, we learn and grow. Think back to when you went through something challenging—a project at work, a college program, a particular phase in parenting, etc. If you walked through the challenge with other people by your side, you likely remember the comradery and sense of shared understanding. You might also remember seeing how others handled the challenge, and you probably learned a thing or two from them. These types of shared experiences are opportunities to open the door to trust, and as a result, relationships grow and strengthen.

Peer mentoring and role modeling are great tools to help create shared experiences. We all have wisdom to give and have a thing or two yet to learn. Whether you are the mentor or mentee, we gain valuable insights, guidance, and encouragement when people connect over similar challenges.
4. Culture and Community
If we can strengthen relationships through shared experiences, we can build a better community. It's possible to foster communities where individuals share their experiences, struggles, and triumphs. Whether through support groups, online forums, or local meetups, providing a space for people to connect and share their stories can be immensely helpful. We can also collaborate with others with shared experiences to advocate for change and raise awareness about important social issues. Shared experiences become a powerful tool for inspiring empathy, mobilizing communities, and effecting positive societal transformations.

At Trevecca, we like to talk about how we make great stories possible, like this incredible collaboration that was born out of two students' journey towards their Master's degrees. Students are on a transformative journey at Trevecca, and we want to ensure they form meaningful relationships with those around them. The professors and staff are intentional about the student experience—if the students feel connected, their entire college experience becomes enriched. We encourage students to get to know one another, even with the online programs. Meaningful, life-changing stories are born from connection with other students.

Brené Brown, a great storyteller, author, and researcher, said this about connection:

"Connection is why we're here; it is what gives purpose and meaning to our lives. The power that connection holds in our lives was confirmed when the main concern about connection emerged as the fear of disconnection; the fear that something we have done or failed to do, something about who we are or where we come from, has made us unlovable and unworthy of connection. Sharing our experiences, stories, and vulnerabilities helps us to cultivate connection, compassion, and empathy."

Let's be intentional and embrace the power of shared experiences. Seek opportunities to connect with others, listen to their stories, and share your stories without judgment. In doing so, friendship will have no boundaries, and understanding and compassion will prevail. May we all be inspired by my daughter's story, public figures like Michael Phelps, and everyone else making a difference through connection and sharing experiences. Together, we can create a community where everyone feels seen, heard, and valued, one shared experience at a time.

Dr. Kristin Bledsoe is a leadership educator currently serving as an Academic Dean for the School of Leadership and Interdisciplinary Studies at Trevecca Nazarene University in Nashville, Tennessee. She is also an associate professor, teaching in multiple programs from associate to doctorate level, with a strong understanding of online learning, teaching, and engagement. Kristin is committed to enhancing the student experience and overall student success. She recently co-authored and published an article on Mentoring New Online Graduate Teaching Assistance in Taylor & Francis' Online Journal. Kristin's most recent certifications have been as an Emotional Intelligence Practitioner and Cognitive Behavioral Life Coach. Recently, she graduated from Tennessee Independent Colleges and Universities Association's (TICUA) Executive Leadership Institute.