Alumni Profile: Andrew Holt
| Alumni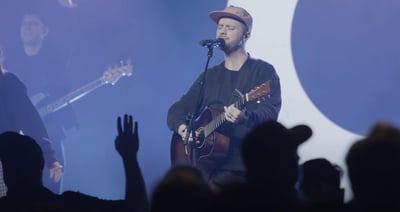 Much of Andrew Holt's career has been marked by divine intervention.
He never had plans to go to college, yet in 2015, he graduated from Trevecca with a degree in worship arts. And it never crossed his mind that, as the worship pastor with The Belonging Co., he would be able to reach so many people with his work, but as of this month, more than 1 million people have streamed his original song, 'Holy – Song of the Ages.'
"The song really came from a spontaneous moment during worship when I just sang out, 'I won't stop singing. I won't stop singing. These lungs were made to sing Your praise,'" he said. "After church, I recorded it as a memo in my phone to remember because I knew that it was supposed to be a song. Our worship leader Daniela Mason started sharing about how God had been speaking to her through the word in Genesis and the idea of creation singing God's praises. The idea was that we get to join in with all of creation singing, which has been going on forever, ages and ages, and from there, we knew God had given us a new song."
Holt, Mason, and Henry Seeley, lead pastor at The Belonging Co., got together and finished the song before releasing it in March of last year. 'Holy – Song of the Ages' is a celebration of the connectedness of God's kingdom and His people's ability to sing in praise. The song was recorded live at The Belonging Co.'s downtown Nashville campus.
"My main prayer for this song is that it would provide an opportunity for anyone who sings it or listens to realize...that there is so much power when we make a choice to praise, and 'Holy – Song of the Ages' is all about us joining in on a song that we were always made to sing—a song that has been going on since the beginning of time and will continue for all of eternity," Holt told The Christian Beat last year.
Holt said the collaboration felt natural as worship itself is such a collaborative experience and that the timing of the song's release – right before the pandemic really took hold in the U.S. – felt particularly meaningful. In the song, Holt and his cowriters included phrases that were heavily focused on the breath of man and on using our lungs to sing praise.
"I think that the collaboration component always makes art better, especially in worship because worship itself is such a collaborative thing. We're all connecting and singing together. I've written so many songs that no one's ever heard, but that one, when we wrote it, it felt so important to be able to share," Holt said. "We don't typically release one single outside of an album, but in March of last year, right before the COVID shutdown, before anyone had any idea how bad things would get, it was ready for release, and looking back, it's like, 'Wow, what perfect timing.'"
Holt said since the release, he's had dozens of people remark on the relevance of the song in the midst of the pandemic and dealing with a virus that attacks the lungs.
"It just feels like God really prophetically spoke through this song. He obviously had something in mind with that timing and with the phrasing," Holt said. "I've always been someone who loves the local church, and the privilege of being a part of bringing worship songs to life is more than I could ever ask for. Since we released the song, we've gotten to hear testimonies of people who talk about feeling a renewed sense of hope. These songs give us a shared language that we have to sing praises to God, and that is at the heart of who we are.
Sam Green, director of Trevecca's Center for Worship Arts, said it's that spirit of service is perfectly representative of what he and others in the department of worship hope to instill in students.
"Being a worship pastor is so much more than having the ability to lead music. A worship pastor understands their call to ministry includes building and leading teams of volunteers," Green said. "Andrew is a perfect example of one who answered God's call in his life at a young age to serve others through the ministry of music. He has a pastor's heart, and it is my hope that he continues to walk through the doors of opportunity that God opens up for his ministry."
As for what's next, Holt said he and his team at The Belonging Co. already have more worship songs in the works, and that they hope to release an album in May.
"It feels like that song was kind of just the beginning of this new sound that we're releasing as a church, and we can't wait to share in our worship and continue to connect with all of God's people. That is why we do this work as a church, and that's who we are before anything else – a church. We're not a band looking to get on the charts or get streams. The reason we are here is to translate what God is doing in our church and to share the songs that He's bringing to us. This is what God put a fire in me to do, and everything that comes with that is just a tool to continue to do God's work."