5 Questions with Trevecca's Dean Diehl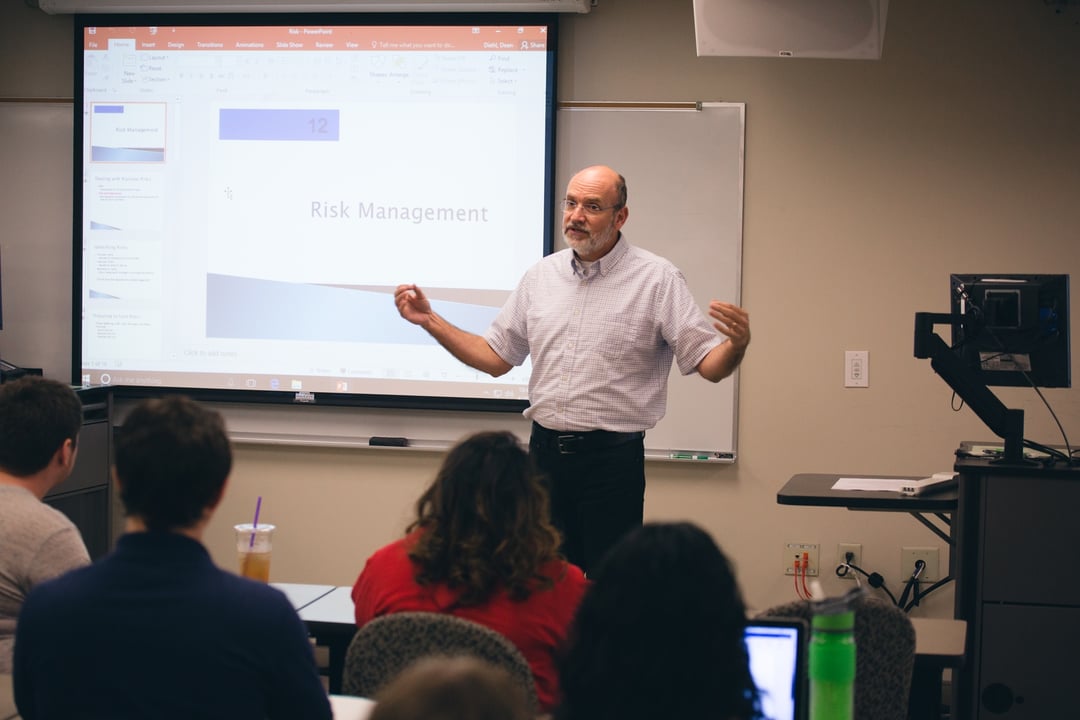 With new business start-ups on the rise and National Entrepreneur's Day just around the corner (Nov. 20), we recently talked with Dean Diehl, director of Trevecca's new entrepreneurship program as well as the University's music business program.
In addition to his work as a faculty member at Trevecca, Diehl was recently named senior vice president of strategy and new business at Provident Label Group. In that role, Diehl works closely with all divisions within Provident Music—including Provident Label Group, RCA Inspirational, Provident Films, Essential Worship and Essential Artist Services—in developing strategic plans for the future as well as innovating around new business opportunities. Diehl previously served as the senior vice president of marketing at Provident Label Group.
Diehl was excited to share some insight about entrepreneurship, Trevecca's new program and how his industry experience shapes his teaching. Here's what he had to say.
Trevecca recently started an entrepreneurship program. Why is now a good time for that?
One out of four high school graduates say they want to own their own business someday. We want Trevecca to be a place where students get both the education and the experience to make that dream a reality.
You head up both Trevecca's music business program and our new entrepreneurship program. What similarities do you see between the two? How do the two majors intersect?
The entrepreneurial mindset, which I define as "seeing the world through a lens of opportunity," intersects with every major on campus. To clarify, when I say "opportunity," I am not just referring to an opportunity to make money, although that can certainly be the case. To see the world through a lens of opportunity also includes the opportunity to bring justice where there is none, to bring hope where hope is hard to find and to bring new life to places where a safe job at a fair wage can be the difference between a life of misery and one of fulfillment.
Whether we own a business or not, learning to see the world through the lens of opportunity is something we should all strive to do.
How do you think your experience in the music industry benefits your students?
For the last 20 years, the music industry has been a place of innovation and constant disruption. In order to teach music business, one has to be in it. I come into the classroom with up-to-date information. In my position, I often meet with executives within Spotify, Amazon, Apple and other global organizations, and I bring those experiences into the classroom every day.
In addition, to survive in such an environment as today's music industry takes creativity, curiosity, patience, perseverance and a strong will to succeed. Those same characteristics are essential for the entrepreneur/small business owner. Working for Sony's Christian music division, Provident Label Group, has taught me how entrepreneurial thinking intersects with the corporate world. While at Sony, I have helped Provident start a film division, a music merchandise company and a publishing division. We have treated these as "business start-ups," very much as if we were running our own small business within the Sony corporate structure. Those experiences provide a great backdrop to my teaching in the entrepreneurship program.
How might an entrepreneurship program be different from majoring in business? Why is that important?
The entrepreneurship program is a BBA degree, so, the entrepreneurship major is a business major. However, in addition to the solid business core of accounting, finance, economics, management and marketing classes, entrepreneur students also get additional resources to help in starting and running a small business. Small businesses have unique challenges and opportunities that require nuanced training beyond the typical business core. This is particularly true in the areas of venture creation, marketing, finance and accounting. We make sure students are equipped to start their own business or operate "entrepreneurially" in the corporate world, something many large corporations value.
What are two pieces of advice you might give a fledgling entrepreneur?
The first piece of advice is to start with something you love. The easiest form of business is selling something you love to people you know. The better you understand your particular product or service, the better the chances you will know how to develop and market your business.
My second piece of advice is always to remember why you started your business. Sometimes small business owners start a business out of a passion for something only to drift away from that passion to chase some other opportunity, losing sight of why they started their business in the first place. Before long, you have a baker who no longer bakes, a teacher who no longer sees students or a songwriter who has no time to write. It is always sad when that happens.
---
Curious?
Click below to learn more about Trevecca's entrepreneurship program.