Trevecca to add STUNT as new sport, welcomes Quigley to lead program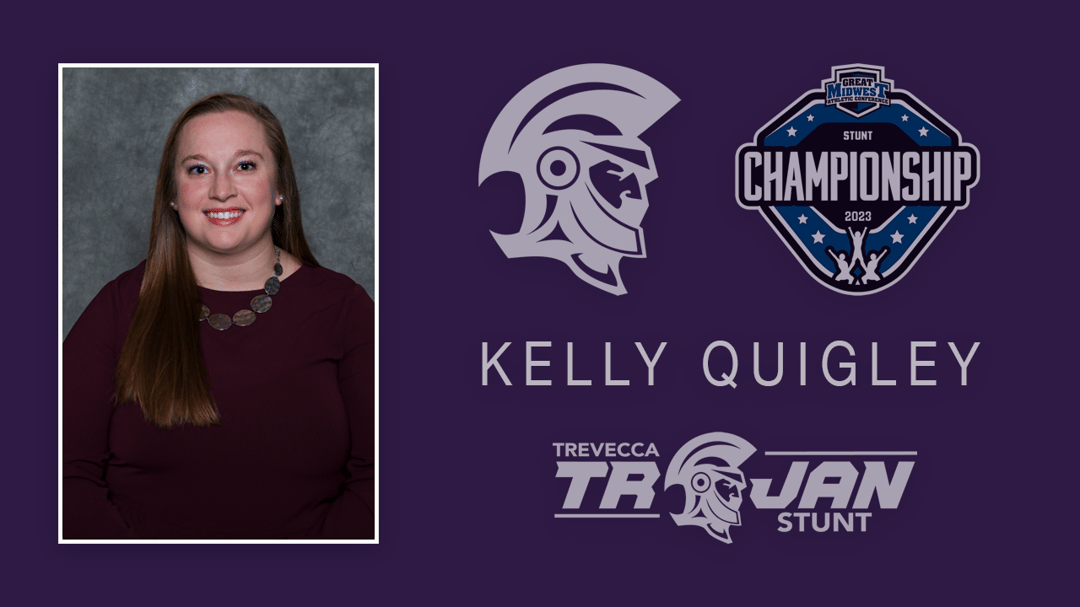 On November 23, 2022, Trevecca Nazarene University announced it will field a competitive STUNT program beginning in the fall of 2023. Today, December 2, 2022, Trojan athletic director Mark Elliott, is announcing Kelly Quigley will lead the new Trojan program.

Elliott said, "Starting a new sport can be intimidating for an athletic department and university. How is this going to work? Do we have the resources? Can we succeed? The answer is a resounding "Yes!" especially when a leader and coach like Kelly Quigley is present. She is a great mission fit, her qualifications are outstanding, and she is already familiar with Trevecca Athletics as a volunteer coach with our cheerleading program."

Quigley was a member of the All-girl Cheerleading team at the University of Delaware from 2014-2016. The Blue Hens squad recently won their fourth consecutive UCA (Universal Cheerleaders Association) national championship in the small coed game day division. The Blue Hens placed second at the STUNT DI National Championship in 2015 and 2016.

Quigley said, "I'm excited to bring the new sport of STUNT to the Hill to showcase the athletic ability our female student-athletes will have and to highlight the challenging nature of the featured components of cheerleading. STUNT provides Moore Maniacs with a new and exciting sport to engage with and follow, through four competitive, head-to-head quarters, jam-packed with skills!"

"It is my goal to recruit female athletes who are driven to excel in their own nature within the sport. I want to build a strong, well-rounded team of coachable and flexible athletes who aspire to learn something new every day. I plan to utilize everyone's strengths and assets to build a confident and successful team!"

While cheering for the Blue Hens, she also started her coaching career. For five years, beginning in 2016, Quigley worked as a part-time cheerleading coach with Tristate Athletics in New Castle, DE. She coached levels 1-6 and assisted with athlete rehabilitation with a safe return to sport following injury, and flyer flexibility and stability.

In her undergraduate studies at the University of Delaware, Quigley was a double major with honors with a BS in Exercise Science and Health Behavior Science in May of 2018.

In May 2021, she added a Doctorate in Physical Therapy from Thomas Jefferson University (Philadelphia, Pa.).

Quigley arrived in Nashville via a pediatric residency at Vanderbilt's Monroe Carell Jr. Children's Hospital and with Belmont University.

Additionally, has completed Athlete Protection and USA Cheer Safety & Risk Management Courses and completed more than 300 hours with the Vanderbilt Consortium LEND Long-Term Trainee Program. A program designed to prepare graduate-level health professionals to assume leadership roles serving children with neurodevelopmental and related disabilities.

She is currently finishing work for Feltz Therapy Services where she has been providing pediatric home health and outpatient physical therapy. She will continue work as a pediatric physical therapist in Nashville in the new year.

Before Delaware, the new Trojan coach cheered competitively with the South Jersey Storm (2006-2011) and World Cup All-stars (2011-2014). With the World Cup All-stars, she finished fifth at the Cheerleading World Championship as a senior (2014).

She graduated from Northern Burlington High School in Columbus, NJ (2014).

What is STUNT?
STUNT, believed to be the fastest-growing intercollegiate sport in the country, was created by USA Cheer in July 2010.

STUNT is currently on the NCAA Emerging Sports for Women list and is being pursued by the Committee on Women's Athletics (CWA). Legislation is up for a member vote at all three Divisions at the January 2023 NCAA convention.

STUNT removes the crowd-leading element in cheer and focuses on the technical and athletic components. STUNT includes pyramids, basket tosses, partner stunts, group jumps, and tumbling.

STUNT features a head-to-head competition between two schools with four-quarters of competition. Each competition runs between 45 and 60 minutes generally and is scored based on execution. The four quarters of a STUNT game include partner stunts, pyramids/tosses, jumps/tumbling, and a team compulsory routine.

STUNT is a spring sport that runs from February to May.

Want to know more about STUNT? Visit - stuntthesport.org and/or collegestunt.org – to learn more or watch a video of a STUNT game.

STUNT NCAA Progress
In April 2020, the NCAA Committee on Women's Athletics (CWA) recommended the addition of STUNT as an emerging NCAA sport. The CWA reasserted its endorsement in February 2022. Also, STUNT has been recommended by the NCAA Strategic Vision Committee to all three Divisions of the NCAA.

STUNT has been approved by the NCAA D-II and D-III Councils and was reviewed by the D-I Council in October. The sport worked closely with the NCAA to develop rules and regulations for STUNT teams and games.

Now, the members of all three NCAA divisions are considering formally adopting the sport at the 2023 NCAA Convention in January.

The Committee on Women's Athletics proposal underlines the rising high school STUNT participation, the persistent addition of the sport by NCAA members, and the backing from USA Cheer as the centerpiece of the reason to add STUNT as an emerging sport for women.

What's Next?
Kelly Quigley is already recruiting to build the first Trevecca STUNT team next year. Email Coach Kelly Quigley

Her very first STUNT team is set to arrive on the Hill in the fall of 2023.

The new Trojans begin practice during the fall 2023 semester, with the first STUNT game expected to be on the schedule early in the spring 2024 semester.

New Look Trojan Athletes
STUNT is the sixteenth intercollegiate sport at Trevecca. Trevecca currently fields teams in baseball, basketball (M & W), cross country (M & W), golf (M & W), soccer (M & W), softball, indoor track and field (M & W), outdoor track and field (M & W), and volleyball. Trevecca's cheer team begins competing in January of 2023 as they head to nationals.