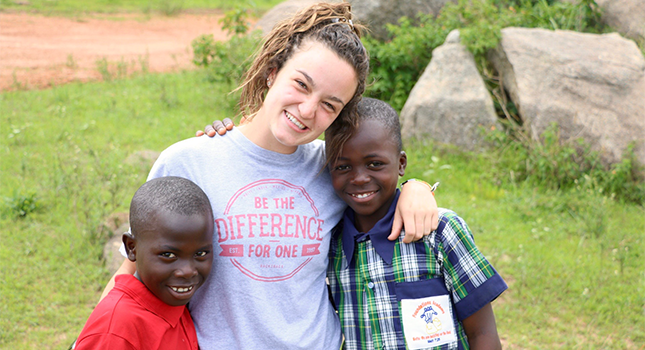 With the fall semester in full swing, Trevecca senior Anna Cypher often finds her thoughts drifting to Jos, Nigeria where she spent her summer. Cypher says the summer was filled with challenges, self-discovery and enjoyment.
The mission trip to Nigeria was an internship with Back2Back Ministries (B2B), a nonprofit mission organization Cypher has worked with in the past.
"Since I went on my first B2B trip to Monterrey, I have felt a huge calling to the mission field," Cypher said. "Because of that, I started doing their internships which last for two months. After spending so much time in Monterrey, it truly became like a second home to me. I decided to do [an internship] in Nigeria this summer because I was wanting to feel more challenged and pushed out of my comfort zone, and I knew Nigeria would do that for me!"
Even though Cypher was being pushed into new territory, the people of Jos made up for that with their kindness.
"The people in Jos were so great," said Cypher. "I have never met people who were so hospitable, kind, and inviting to complete strangers!"
During Cypher's time in Nigeria she used the training she has received as an elementary education major to help the community.
"The first few weeks we were in Nigeria, we worked at an education center, teaching elementary students," Cypher said. "The education center was for kids that lived in the villages in Jos and it was an after-school program where they were tutored and helped with their studies."

The last weeks in Nigeria were spent in Destiny, where the Back2Back interns went to a children's home. There the interns organized field trips, music lessons, and provided services for the needs of the children.

Cypher says her experience with the children of Jos has shaped her faith for the better.

"The best part of my time in Jos was spending time with all of the kids. I was really challenged and inspired by their faith and the way they love people," Cypher said. "It was really awesome getting to pour into them and getting to be a small part of a big story that God is writing in Nigeria."

Cypher had hoped the experience would stretch her and says her summer in Africa didn't disappoint.

"I was definitely challenged and pushed out of my comfort zone, which was hard at times, but also brought a lot of growth," she said. "I would definitely say that I experienced [God] in a different way! I love being outside of my comfort zone because I always learn so much about myself and the Lord. Every time I feel inadequate, the Lord shows me that He is capable of so much more than I can imagine."

Cypher expects mission trips to continue to be a big part of her life.

"I would definitely do it again!" she said. "All the time I have spent on the mission field has greatly impacted me, challenged me and shaped me into the person I am now, and I don't want to miss out on those life changing moments."