Scholarships Allow Waddell to Fulfill Her Dreams of Mentorship and Service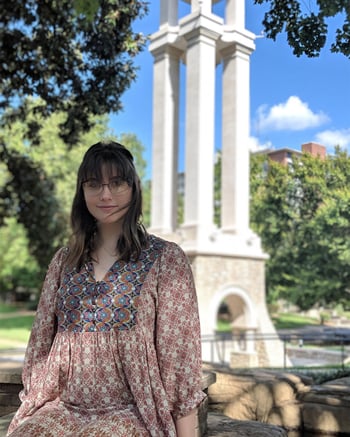 Funding scholarships is one of the most significant ways to impact students in the Trevecca community. For senior Sarah Waddell, scholarships are the reason she is a student today.
"I've received three endowment scholarships, two in the education department and one in the communications department," said Waddell. "The scholarships are the only thing that has allowed me to stay here. I would not be able to continue without them."
Waddell has also been the recipient of the Nina Gunter Servant Leader Scholarship and the SunTrust Scholarship. Originally from Memphis, Waddell stumbled across Trevecca unexpectedly and pursued her dream of attending though it seemed impossible.
"My Trevecca story was just a complete God thing. I had never heard of the school and I had never been to Nashville but I was Googling and I found it," said Waddell. "It wasn't plausible for me to come here because we didn't have any money and my parents told me I absolutely couldn't do it. But I decided to do it anyway and God made a way."
Since being at Trevecca, Waddell, a communications studies major with a double minor in education and English, has become very involved in campus life, taking part in a range of opportunities. She has been a peer mentor multiple times and written curriculum as a summer student programs intern. She's also served as an RA, academic coach and writing tutor.
"I've been blessed to serve in so many different positions here," said Waddell. "Serving in a variety of different roles has helped me to grow in my relationship with Christ as well as helped me to grow in the community and learn so much about myself. Service is my passion."
With the completion of her degree in May, Waddell hopes to continue the service she has actively pursued as a student.
"I have a passion for high school students. I think mentorship is such a powerful thing and it can be a pivotal part of growing up," said Waddell. "So I am currently writing a curriculum and I am hoping to have a class similar to the LINK class for freshman in high school. I am also hoping for leadership opportunities with peer mentorship for older students as well."
There is no doubt in Waddell's mind that all of this – her present education and her future goals – are only possible because of the scholarships that have been made available to her. Finding out she was a recipient was an emotional experience.
"I lost it, because the idea that I would not have been able to continue going to Trevecca was so overwhelming," said Waddell. "For God to provide and put it on the hearts of these people to give so generously really touched me. Not only am I able to continue going to Trevecca but I am able to continue my dream and impact the world. I'm able to fulfill my dreams because people gave."
When Trevecca comes together, anything is possible. Consider donating to the scholarship fund and other key university initiatives on Giving Day to make stories like Sarah Waddell's possible. Giving Day takes place on March 15, and you give and can learn more about supporting current and future students at https://www.trevecca.edu/givingday.