Summer Spotlight: Andrew Preston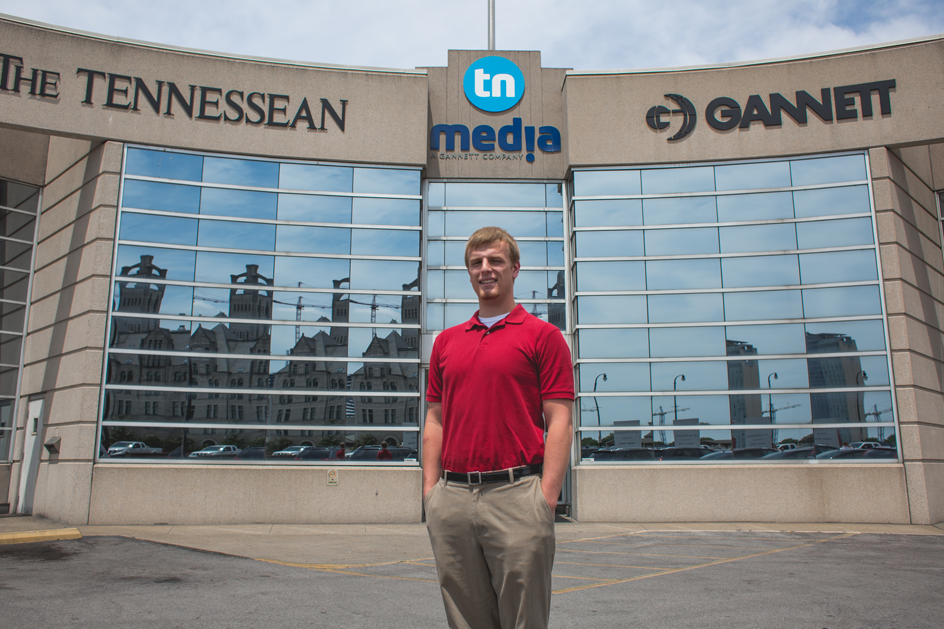 Trevecca senior, Andrew Preston, is spending his summer working part-time at Tennessee's largest newspaper, the Tennessean.
"I'm still in awe," said Preston. "I just think it's really cool to be from Trevecca, in such a small program and be working here. I'm still kind of amazed, like I have a cubicle, I'm working at the Tennessean."
Preston started working at the Tennessean as an intern during the spring 2017 semester, after Greg Ruff, director of sports information, forwarded him an email about the open position.
"Greg really helped me with this," Preston said. "It's a really big deal to have someone that I respect help me get into the industry."
Throughout the semester, Preston spent his internship completing typical intern tasks, such as creating a master social media list and maintaining the agate section of the sports page, where the daily stats and scores for various teams and sports are displayed.
Since moving from intern to part-time employee, Preston has started covering more stories for the newspaper.
"He is reliable and willing to do the entry-level work he was hired to do, and, as a result, he's been able to get some bylines already," said Jo Ellen Werking-Weedman, Trevecca journalism instructor. "I suspect that in addition to excellent experience, he will have great references from the state's leading newspaper."
Preston says that studying under Werking-Weedman has given him the guidance he's needed to help grow in his skills and future career.
"I credit a lot of my education and learning to Jo Ellen and how she's influenced and trained me," Preston said.
Preston has been a journalism major since he began his college career and has put his heart into his work.
"He has made the most of every opportunity at Trevecca, and he is willing to do anything asked of him for the newspaper," said Werking-Weedman. "He loves sports, but he's jumped in and covered breaking news and other stories when we needed him. He's made the most of his academic experience as well as his experience on the staff of the student newspaper."
Preston has been on staff at the student newspaper, the TrevEchoes since his freshman year and was named sports editor during the 2016-2017 academic year.
"It was really tough because I was taking 15 hours plus my three-hour internship, so during the semester it was really tough to balance school and work [at the Tennessean] because I'd be there five nights a week, and I'd get two nights off," said Preston. "So not technically a full-time job, but pretty close to it. Twenty-five to 30 hours of work and also doing school at the same time was a lot."
From being named sports editor at the TrevEchoes to simply having a position at the Tennessean to seeing his first byline, Preston has had a big year in journalism, and he's looking forward to building his future career.
"I think it's great … to have it on my resume that I worked at the Tennessean, I think that'll really help me out in terms of future employment," Preston said. "Being able to tell a future employer that while I was in school I was also working at a major newspaper is great."
Preston had dreams of becoming a traditional reporter and writing for print, but knows that with the industry changing and more news moving online, he may end up writing for web in the future.
"I think I'm a little too young for what my dream job would be, but I'm in a newspaper right now so I guess that's a start … I'm just taking the next opportunity I'm given, I guess," he said.
Writing for the Tennessean has been thrilling for Preston. His experience recently came full circle when he was assigned to write a story about Alexa Rippy, a golfer at Trevecca.
"I think having a Trevecca student write about a Trevecca student in the Tennessean is pretty cool," Preston said.
To read that story, click here.