One year later: Lackey celebrates stroke recovery by running 5K
| Faculty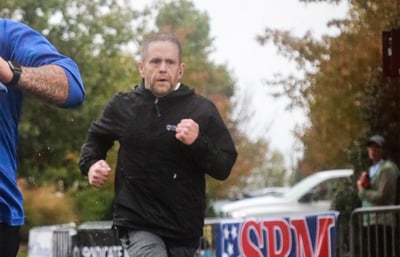 When Marcus Lackey woke up on November 3, 2020, he had an odd feeling on the left side of his body. When his symptoms persisted, he went to the emergency room, where doctors discovered he'd had a stroke and immediately admitted him with dangerously high blood pressure.
"I had not taken care of myself," said Lackey, the director of academic services for Trevecca's School of Graduate and Continuing Studies and a TNU employee since 2000. "I'm lying in the hospital, I have no idea really what's going on, I'm scared out of my mind. I weighed 250 lbs. and they tell me I've had a stroke at the age of 46. I knew I had to do something."
Lackey immediately began to consider weight loss and took action, meeting with a nutritionist to learn how to undo 20 years of poor eating habits. He replaced white bread with whole grain, started eating leaner cuts of meat, and dramatically decreased his sodium intake. The results were dramatic. Lackey went from 250 lbs. to 199 lbs. in less than four months. Seven months later, he was down to 175 lbs. and continued losing weight after that.

"I was making decisions based on the fact that if I didn't, I could have another stroke," said Lackey. "That turned into weight loss, which turned into feeling better about myself … and that turned into making better choices because I just wanted to be a better human being than I was."
After reevaluating his eating habits, working out three to four days a week, losing weight and eliminating sleep apnea, he set a new goal for himself.
"I wanted to prove to myself that I could set my mind to something I've never attempted and get it done. I went from not being able to walk more than 50 feet without a walker and a therapist holding me up to finishing a 5K faster than I ever expected to. My mantra through the year became 'from intensive care to 5K in under a year.'"
He completed the 5K this November in 35 minutes and 35 seconds, and he plans to run another one, with hopes of beating his time.
"I was never a runner before and I'm still not a runner, but I'm trying to challenge myself, I'm trying to be better," said Lackey.
He now sees his stroke in a positive light, as a source of life transformation.
"I am glad that I had a stroke. It's crazy to say that but I'm glad that I did because I let God work through me," said Lackey. "It wouldn't have happened without His help, but I also had to listen to that and abide by that … and now I'm here. My entire life is different."
The effects of Lackey's journey and weight loss have gone far beyond physical health and given him the opportunity to live a more authentic and open life with those around him.
"I lived a dual life in many ways before," said Lackey, "People thought things were great and I knew how to wear a mask very well, but now I don't have to wear a mask anymore. I can just live my life and people see the experience … and they see more than just the weight loss, they see that there's a light in me that hasn't been there before."