Build A Bridge: Meet Mauricio Paredes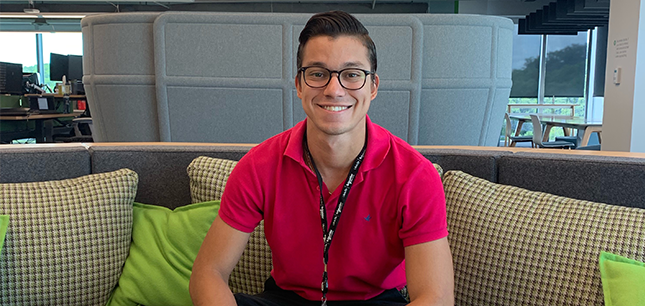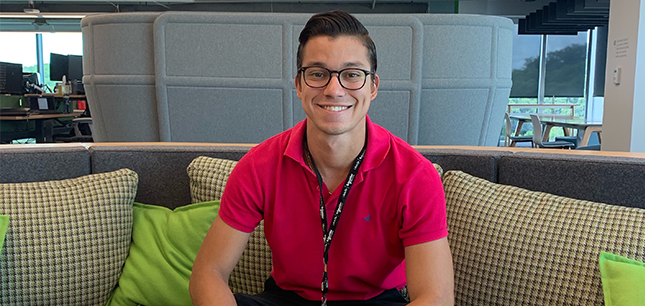 Mauricio Paredes has a few goals for the next year: finish his degree, sit for the CPA exam, and, hopefully, get a job with one of accounting's Big 4.
"My goal is to finish with 150 credit hours so I can sit for the exam as soon as I graduate," Paredes said.
A rising senior, Paredes is currently working as an intern with Schneider Electric in the company's Franklin, Tenn., offices. Paredes, who is majoring in accounting, is focusing on finance during his summer internship.
"It's been interesting," he said. "I've already finished two accounting internships, and I switched to finance [for this one], so I've had to get out of my comfort zone a little bit. I've liked it so far. There were so many new systems and things I had to learn so fast. In accounting, you have all these rules, but finance is more analytical, it [involves] using problem-solving."
Paredes is one of Trevecca's international students, a group that makes up just under 5 percent of the University's traditional undergraduate class. Last year, Paredes benefitted from Trevecca's Build A Bridge scholarship, a fund created to help students close financial gaps that would keep them from completing their education at Trevecca.
Originally from Honduras, Paredes says that deciding to come to Trevecca was one of the "best decisions" he's ever made.
"The professors, I like how they teach," he said. "The small class sizes are perfect. I can just go and knock on a professor's door if I have questions. The professors know what they're talking about and prepare you for the real world and definitely for the CPA exam."
Paredes also works as an accounting tutor on campus, a job he loves because it allows him to help other students, but also allows to review accounting principles.
"Having that opportunity to tutor helps me to keep studying the principles," he said. "I like that I can be a tutor and also go back and review what I've learned every single year."
As an international student, finding the financial aid to make attending college at a small private school in the United States isn't easy. Paredes' parents help, but an unsteady economy in Honduras makes that difficult. Paredes uses the money he earns from jobs and internships to help foot the bill as well as save for the CPA exam and pay for the car he purchased to get to and from his internship.
"Being an international student, we can get loans, but it's very, very difficult. We need a co-signer," Paredes said. "[The Build a Bridge] scholarship definitely helped me a lot this year."
More than that, Paredes sees the scholarship as an "opportunity" and a symbol of Trevecca's investment and belief in him.
"I had explained my situation to [the Office of Financial Aid], and they looked at my grades and everything, then said they were going to grant me the scholarship," he recalled. "I think that's good. They are looking for students who are going to take advantage of the opportunity that they've been given, and that's amazing."
Paredes has a few more weeks left in his current internship and another internship—this one in internal auditing at Genesco—lined up for the fall. He'll take a short trip home to Honduras in between, since he hasn't visited his family since last summer.
Through it all, Paredes remains committed to his goals. He's already talking to a couple of Big 4 accounting firms and focused on finishing his senior year strong.
"The recruiting process for the Big 4 starts now," he said. "So maybe in the next few months, I'll know more about what I'll be doing in the future. That's the goal. I'm very thankful for Trevecca."
---
You make all the difference
Thanks to donors of Trevecca's Build a Bridge campaign, students like Mauricio have been able to continue their academic careers and prepare for their callings. Consider giving today to help make these stories possible.