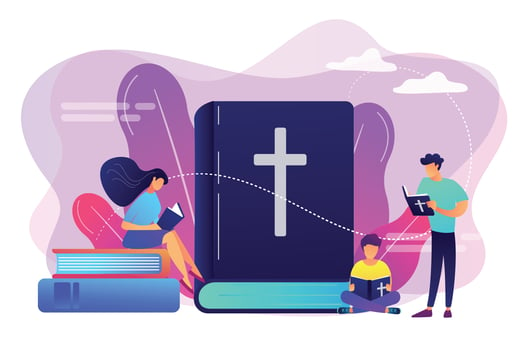 Right now the future feels uncertain. It's easy to let anxiety and worries about tomorrow overtake us. But in moments of uncertainty, it's always good to rest on the unchangeable character of God. As we head into the Easter weekend, University Chaplain Erik Gernand offers five truths from Scripture that never fade, no matter the current circumstances.
We are never alone.

So do not fear, for I am with you; do not be dismayed, for I am your God. I will strengthen you and help you; I will uphold you with my righteous right hand. – Isaiah 41:10

In this time of social distancing, it is important to remember that none of us are ever truly alone. One of the most repeated promises from God in the Bible is, "I am with you." Whether we are looking into what feels like an uncertain future, or if we find ourselves feeling isolated, it is good to be reminded that nothing can separate us from the love of God in Christ Jesus (Romans 8:35-39).

What's more, this promise is often connected to another phrase we need to hear these days, "Do not be afraid." For the people of God, the call to live in love, confidence and self-discipline (see 2 Timothy 1:7) is intimately connected to the presence of God's Spirit being with us and at work within us.

God's character remains constant.

Jesus Christ is the same yesterday and today and forever… –Hebrews 13:8

The whole world sometimes feels like it's been turned upside down these days. Many of the patterns and markers of life that help create structure and normalcy are disrupted, lying around us in pieces. In the early days of the pandemic, it seemed like the circumstances on the ground were disrupted by the hour.

But even though it feels like everything has changed (and continues to change) around us, we do well to remember that the character of God remains constant. He is still faithful, true, good, full of compassion, the giver of good gifts, slow to anger, abounding in love, rich in mercy and kind. "The steadfast love of the Lord never ceases…" (Lamentations 3:22)

When the world is in upheaval around us, remembering that Jesus Christ is the cornerstone can give us a fixed point to build on as we weather the storm (Ephesians 2:20).


God's grace is sufficient.

My grace is sufficient for you, for my power is made perfect in weakness. – 2 Corinthians 12:9

When Paul had a difficult circumstance ("thorn in the flesh") from which he longed to be delivered, he prayed for it to be taken away. Many of us are praying these prayers today, that God would do a miracle to deal with the virus and its effects. Sometimes, God does answer prayers by performing amazing miracles. Sometimes, God is working to bring about what we seek through other means (science, medicine, and so on). But other times, or at least in certain seasons, we are given the answer Paul received, "My grace is sufficient for you."

One prayer I often pray as a pastor is that God's grace would rise up to meet the need of the situation before me. Over the years, I've learned to trust that God's grace is sufficient, not just for Paul, but for all of us at all times. And just when we think we've exhausted it at the end of one day, we awake the next one to find that "His mercies are new every morning" (Lamentations 3:23).


We are commanded to love.

A new command I give you: love one another. As I have loved you, so you must also love one another. – John 13:34-35

In every age, circumstance and situation, faithful Christians seek to find ways to be obedient to the command of Christ to love others. When life is consistent, it can be easy to go on auto-pilot in the way we love one another. But when circumstances of life change so dramatically, we are given all sorts of new opportunities to creatively love one another.

In these days, the ways in which you choose to love one another with the same kind of selfless love of God not only gives witness to your love for God, but also helps a curious, watching world catch glimpses of the God who loves the whole world enough to give us Jesus.

Let's not miss any opportunities to find new ways to love one another.


God is making all things new.

Behold, I am making all things new! – Revelation 21:5

Jesus made a way through the grave on that first Easter morning and will certainly make a way through this pandemic we're facing. While the struggles we face in these days are real and difficult, this doesn't change the reality that Jesus is still working to renew all of creation.

As Christians, we look forward to and have confidence in the day when all things will be set right. There will be a day when every tear will be wiped away, all pain, death and dying will cease, the old order of things will have passed away and everything will be made new. On that day, we will bask in the glory of the Lord that fills the earth with light, love and life.

At the end of the scriptures, Jesus himself tells us to hang on because "I am coming soon" (Revelation 2:20).

May it be so. "Amen, come Lord Jesus."
---
Looking for more content that anchors your uncertainty in Scripture?