5 tips to take care of emotional health over the summer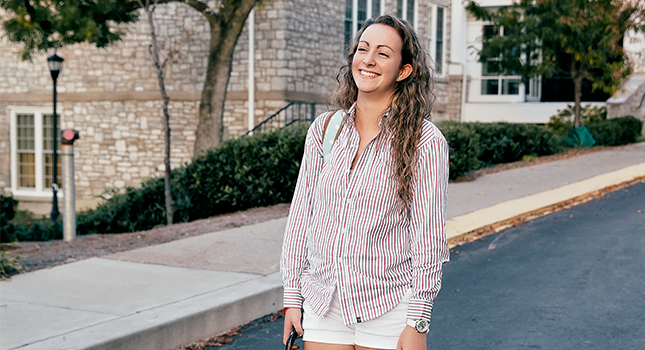 For some students, summer can be the best time of the year, while for others, it may not be so easy. Miller Folk is a new counselor in Trevecca's Counseling Center—located in the Smith House—and she gave insight that might help students transition to living at home.
According to Folk, going back home after having more independence and freedom can be hard. Some students may have to work during the summer, and others could just miss being around their friends. Folk said that summer can be an abrupt change for a lot of students, but there are ways and strategies to make it easier to cope. She provided five coping skills that students can utilize over the summer.
1. Be intentional.
Being intentional means thinking about the thing you want to do and making plans to follow through. According to Folk, setting time aside for yourself can be very important. It can be as simple as reading your favorite book or going outside and moving your body.
2. Journal.
Whether it's a regular journal or gratitude journal, the effects remain the same. "Journaling helps us reflect and helps us honor what's going on, and also helps us slow down and get out of heads," Folk says.
3. Exercise.
"Moving your body is one of the best things that you can do for yourself. Summer is a good time to go outside and move and be active," Folk says. You can walk, run or spend your time doing a childhood favorite, like hoola hooping or jumping rope.
4. Go off the grid.
According to Folk, disengaging from technology or social media can be helpful. She said during the summer, it can be easy to compare yourself to others, especially if your summer is not going well. It can be as simple as putting your phone down for an hour a day or taking a break when you begin to have negative thoughts.
5. Set a routine.
While you may have been looking forward to not having a routine over the summer, Folk said it can cause you to feel aimless and have a lack of motivation. An example of setting a routine is going to sleep and waking up at the same time or planning your day just like you would when you prepare for the semester.
Calm, Comfort, Soothe
Taking care of your mental and emotional health is one the most important things you can do, Folk said. "It's interconnected to everything. For them to pay attention to their mental and emotional health is going to affect how they show up in their relationships with their friends, family, coworkers, and professors. If we avoid it, we're missing a big part of ourselves." Folk says that coping skills are anything that help you calm and comfort yourself. As for dealing with summer, she suggests using it to slow down and reconnect with yourself. Think about what you want your summer to look like, set loose goals and have fun.
The counseling center is open all summer to students and professors. Hours are 8 a.m. to 8 p.m. The first six sessions are free, then $5 for each session.