5 Questions with Dr. Randy Carden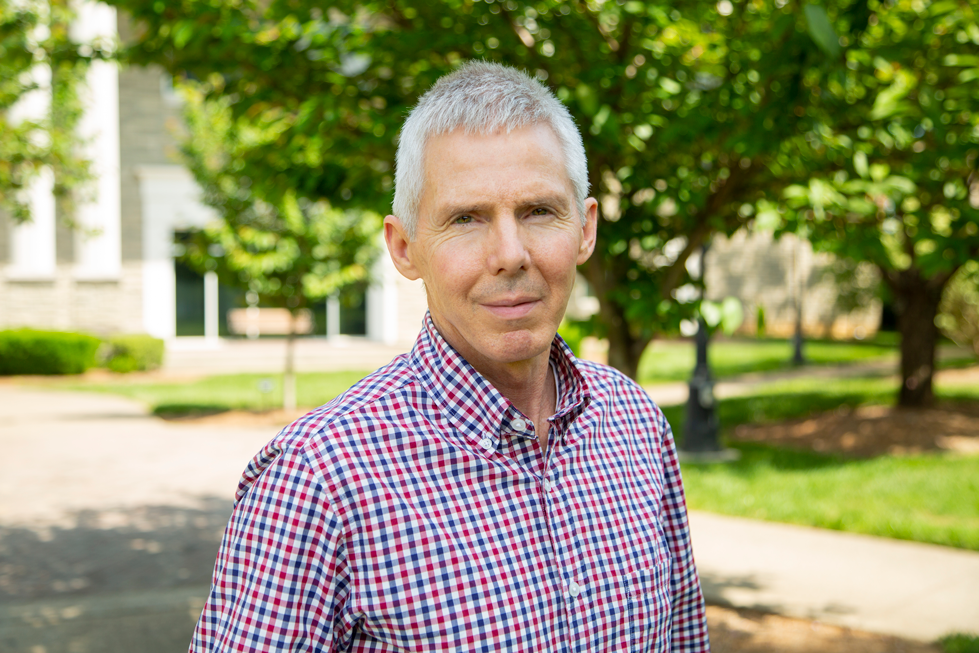 For Dr. Randy Carden, Trevecca professor of psychology, Christian higher education isn't just a job. It's a calling.
Carden first came to Trevecca as a junior, recruited by Alan Smith to play tennis. He fell in love with Trevecca and experienced the power and influence Christian education can have.
"I found authentic Christianity at work on the campus, met my wife, Judy, had a great academic experience and loved playing intercollegiate tennis," he said. "I could feel the work of God on campus spreading its way through academics, chapel, social life, my coach, and my sports team. Over time, I began to feel a sense of calling to Christian higher education. It became clear to me that I wanted to return to a college environment like Trevecca and teach psychology."
A member of Trevecca's faculty for more than 35 years, Carden is driven by his love for teaching and his love of research. To learn more about how those passions shape his work, we asked him a few questions. Here's what he had to say.
You were a Trevecca graduate who eventually came back to teach at the University. Why does Trevecca mean so much to you?
Everything we do is a form of worship. Our academic preparation and commitment is critical and is an expression of worship. We are called to do everything as well as we can for the glory of God. Our academics fit in just like all other forms of worship. [Trevecca] is a unique environment where we worship holistically—with our entire being. This environment is where I have committed my life—I thrive here. I feel like I am still in school—like many, I am a lifelong learner.
Research has been very important to you. You have been instrumental in beginning both our student and faculty research symposiums. How do you try to instill a love for research in your students?
Research is about discovery. It is my hope that my students will get excited about the process of exploration and discovery. I hope that my deep involvement in each of their research studies is inspiring to them. I am involved in their initial ideas, literature review, hypothesis development, methodology, data collection, analysis, interpretation of results and the writing and presenting of findings. I am with them from the beginning to the end. It is very labor intensive for me and for my students. To conduct an original research study from beginning to end in one semester is a daunting task—but we are in it together.
You've done a lot of research on your own as well as having research published in journals with some of your students. Is there a research project that you are particularly proud of or excited by? Why?
I feel that I cannot ask my students to do things that I'm not doing. I must model professionalism if I expect professionalism from my students. So, I am involved in research and consulting. Over the last 10 years or so, about 8-10 studies conducted in my research class have been published in peer-reviewed journals. That is quite an accomplishment, I feel. One of the studies we just completed this spring semester was especially interesting to me. One of my undergraduate psychology majors, Grace Perry, conducted a multivariate study related to optimism, rumination, cognitive flexibility, creativity, depression and resilience. I am personally interested in creativity and how it relates to other personality variables.
Trevecca wants to instill a deep love for service and leadership in our students. How do you think psychology graduates give back to or help their communities?
Many of our students fulfill the mission of Trevecca very well in their desire to work in the area of counseling and psychotherapy. Many feel a strong desire, calling and sense of mission to work in the helping profession of applied psychology. Many of our students feel a keen awareness of the pain that a lot of people experience—along with their empathy, our students want to actively help others work through issues and flourish. Many of our students plan to attend graduate school in order to prepare for this future work.
You're also a painter. Does your love for painting and the arts ever make it into your classes?
One of the surprises in life is how our liberal arts education can prepare us for lifelong learning—this happened to me in the area of my interest in the visual arts and my painting. Fifteen years ago, I could not have predicted that I would now be a painter. I spent about 10 years studying painting in class at night and traveled for workshops. I have a studio at home and study painting almost every night.
My art has influenced my work at Trevecca. I developed a course called "Psychology of Art" and teach it every-other-year. It combines two of my passions, and it's one of my favorite classes … Just a few weeks ago, near the end of the semester, [Trevecca] had its first Art Crawl. I was invited by SGA to participate. I brought a sampling of my work and also guided an interactive abstract art session. About 10-12 students participated in producing several abstract paintings over the course of 90 minutes. It was a great experience—some reported that it was a wonderful stress reliever at a challenging time of the semester.
---
Your adventure awaits
Interested in Trevecca's Bachelor of Science in psychology program? Click below to learn more.