A loving farewell to Millard C. Reed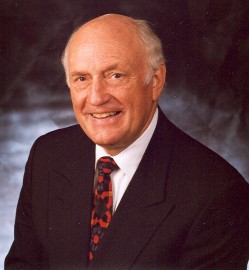 On Sunday evening, Dec. 30, family and friends of Millard C. Reed paid their respects to him in a memorial service in the sanctuary of First Church of the Nazarene, in Nashville, Tennessee, a church in which Dr. Reed had served as the pastor for 17 years. Dr. Reed died Thursday, Dec. 27, following an illness.
With Reed's portrait on the platform were the academic regalia he wore in his role as president of Trevecca from 1991 to 1996: his cap and gown, chain with the seal of the University, and academic hood. That setting—with those reminders of his service as a pastor, teacher, and college president—provided a fitting backdrop for remembering Dr. Reed's life and influence.
The service included songs and hymns that were Dr. Reed's favorites. Brad Garvin, a nephew of Dr. Reed, led the congregation in "All Hail the Power of Jesus' Name" and "It Is Will with My Soul." The Trevecca Heritage Men's Chorale sang "Jesus Led Me All the Way"; Dr. Reed had been a part of this group until illness forced him to resign. The service also included two audio recordings: Dr. Reed singing "The Glory of His Presence" and a duet y Dr. Reed and Barbara, his wife, singing "A Name I Highly Treasure."
Four ministers reminded listeners of the scope and influence of Dr. Reed's ministry. Jess Middendorf, general superintendent of the Church of the Nazarene, read a letter to the Reed family from the Board of General Superintendents of the Church of the Nazarene and recounted how the positive service Dr. Reed gave to the denomination had influenced the Church. Stan Toler, general superintendent of the Church of the Nazarene and the pastor who followed Reed as senior pastor of First Church of the Nazarene, told how Dr. Reed supported and encouraged him when he became the pastor of First Church; Toler also told how Dr. Reed had loved and influenced missionary efforts in Africa. Dan Boone, president of Trevecca and Reed's successor in that role, described Reed's accomplishments as a college president and how he influenced Trevecca's history; Boone noted that Reed's love for and influence on students at Trevecca continued long after he retired from the presidency. Kevin Ulmet, senior pastor of First Church of the Nazarene, explained how Dr. Reed had influenced his own ministry, starting in college when Reed was his pastor, teacher, and mentor and then later his ministerial colleague and friend.
The memorial service included many elements that bore the stamp of "Pastor" Reed, and the final part was one for which he specifically asked—a "party" with lots of food and fellowship. And after members of the congregation paid their final respects to "Pastor" Reed, they moved to the church fellowship hall for that "party," hosted by Trevecca Nazarene University and First Church. Reed's children and relatives mingled with Reed's former parishioners and students, pastors and church leaders, friends from the community, and others who loved Dr. Reed.
The memorial service and the "party" which followed were a fitting farewell to a great man who loved people.