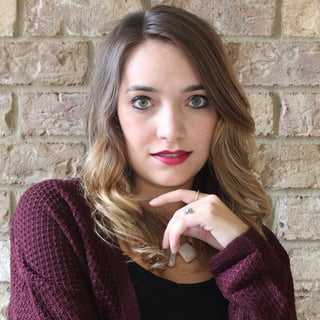 With Homecoming 2016 festivities already underway, we paused for a short chat with alumna Rachelle Dekker. An award-winning author, she'll share a few thoughts about her publishing journey, writing a book series and winning the 2016 Christy Award for best young adult novel for her debut book, The Choosing.
Dekker will also take time to answer questions from the audience at the AuthorTalk event, scheduled for 1:30 p.m. today in the President's Dining Room on Trevecca's campus.
But first, she answered a few questions for us.
Tell us about your first book, The Choosing.
The Choosing is a dystopian novel that takes place in the distant future after a post-apocalyptic event. The world finds itself trying to reestablish order and rebuild and regrow. A caste system is in place, and [the primary role of women] is to be chosen by a man to be a wife and bear children to help further society. If you are not chosen, then you are outcast from the society to become an authority worker, and do city grunt work. You never get to see your family again, never get to fall in love. We find the protagonist, Carrington, in the first pages of the novel, at her choosing ceremony and she isn't picked as a bride, even though she followed all the rules and did everything she was supposed to do. You follow her journey through the novel of self-discovery and identity in a power greater in herself.
When did you realize writing was what you wanted to do?
I've been writing all my life—I wrote my first short novel when I was 12—but kind of fell away from it in high school and decided it was kind of impractical. How many people actually get published? I mean, my dad did it, and I watched his journey and struggle. I though maybe I wanted to do communications or psychology. I was just flapping around trying to find something I was really passionate about. I needed to take an elective and had taken Dr. Karounos for a required English course and loved him, so I decided to take some more courses that he taught. I took Intro to Creative Writing with Dr. Phillip and the second course, Advanced Creative Writing with Dr. Karounos in the same year. By the time I was done with my sophomore year, having taken both of those classes and just being so influenced by their passion for literature … I just remember leaving sophomore year thinking, There's nothing else. There's nothing that gets me as passionate as story does. I started writing again that summer and basically took every Dr. Karounos class I could get my hands on.
Do you have any advice for writers who are just starting out?

Practice. Practice. Practice. Write as often as you can, even if it's just a little bit, even if it's just 30 minutes a day, even if it's not story, necessarily. Maybe you're journaling, maybe you're writing songs, maybe you're writing for class. Every word you write is necessary to propel you forward. Write constantly and try not to judge yourself. Because everything is beautiful and necessary, there is no wrong work. And read. Stephen King says you should be reading as much as you are writing. So, read, write, and just try to give yourself as much love and patience as possible.

What's it like to come back to your alma mater for a Homecoming AuthorTalk?

I adore Trevecca. I loved going to school there. I always knew leaving that I wanted to come back and give back and encourage students to try to get as much out of the four years—or five or six—as possible just because it's an incredible school. It gives me tingles all over that I get to come back and share there.

Join Dekker at 1:30 p.m. today for a discussion of her book, The Choosing, as well as The Seer book series in the President's Dining Room in Jernigan.