Trevecca soccer quartet cycles California's coast to raise funds for youth charity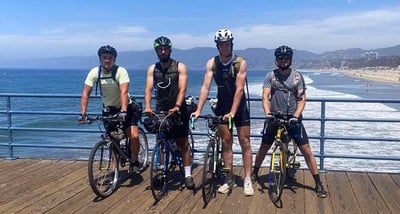 Spanning more than 650 miles and covering most of the Golden State's Pacific coastline is CA-1, California's longest state route and a paradise for cycling enthusiasts because of its scenic Pacific overlooks. Late this spring, with no cycling experience whatsoever, four Trevecca men's soccer players found themselves cycling 700 miles down the Pacific Coast Highway over a grueling 13-day period for a special cause.
Bryce Wahy, Cillian Farmer, Shane O'Connell and Tadg McEvoy had been looking for a physical challenge when the pandemic shut down much of the country. With limited options, they decided cycling from San Francisco to San Diego along CA-1 would be a unique and demanding way to channel their energy.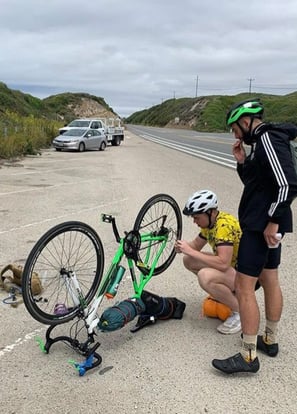 COVID restrictions had already prevented the team from participating in their usual activities with Youth Encouragement Services (Y.E.S.), a nonprofit that gives underserved youth in South Nashville a place to go after school. Still, Trevecca soccer coach Danny Leavy continued to challenge his team to find ways to make an impact and serve the community.
"I want my guys to learn that opportunities to serve your community are everywhere and that we all have a platform to some extent," Leavy said. "While it may be small, you can still make a huge impact on your community and the people that live there."
With graduation approaching, the teammates discussed their planned cycling trip out West with Leavy. The group decided to turn the trip into a charity bike ride so they could raise funds for Y.E.S. The players started a GoFundMe with a goal of $5,000. Despite being novice cyclists, they were grateful to find an opportunity to serve the charity organization that was so close to the team's heart.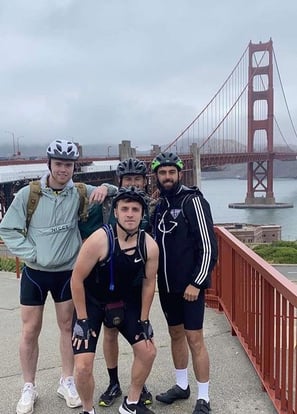 "We knew we wanted to do something to help out in the community and those refugees that we had come to know," said Wahy, a current MBA student at Trevecca and a forward on the soccer team. "We felt this was a good way to impact them positively."
With little preparation, the group packed their gear and flew to San Francisco to begin their trek. Using Komoot, an app that plans routes and keeps users on paths that are bike friendly, they left the airport and started their first day cycling across Big Sur.
"That was definitely our toughest day and the most physically challenging thing I've done," said Wahy. "Once you got to the top of the incline, though, the view was amazing. We had the mountains to our left, the ocean to our right and we glided down the mountain at probably 40 miles per hour. It was such an awesome experience."
That physical hurdle was far from the only thing that would make the trip difficult. Challenges began the moment the group arrived in California, when they found that Farmer's bike had broken during the flight. After it was fixed, the four teammates quickly learned they had made a critical error in bringing just one air pump. This posed a serious problem, as flat tires are a common occurrence in long-distance cycling. It was a lesson they learned the hard way – they would deal with flat tires every day of the trip.
"We were definitely not prepared enough," said O'Connell, an MBA student who plays defender in soccer. "The lack of preparation made it challenging but also fun. If it was smooth sailing the whole trip, it wouldn't have been fun."
After 13 days of repairing punctured tires, meeting other cyclists and sleeping in tents, the foursome pulled into San Diego. They'd accomplished a remarkable trek of 700 miles across the Pacific Coast Highway on bikes they had purchased from Walmart. Even better, on the last day of the trip, they exceeded their fundraising goal by earning $5,500 for their charity.
Despite the physical and mental demands, the group agrees that it was the trip of a lifetime, made more meaningful because it impacted an organization they care for.
"Reaching and breaking that goal on our last day was such a great moment," said Wahy. "Knowing that money was going to the kids at Y.E.S. is something we were all proud of, and it made all the challenges and obstacles worth it."