Think You Don't Have Time to Go Back to School?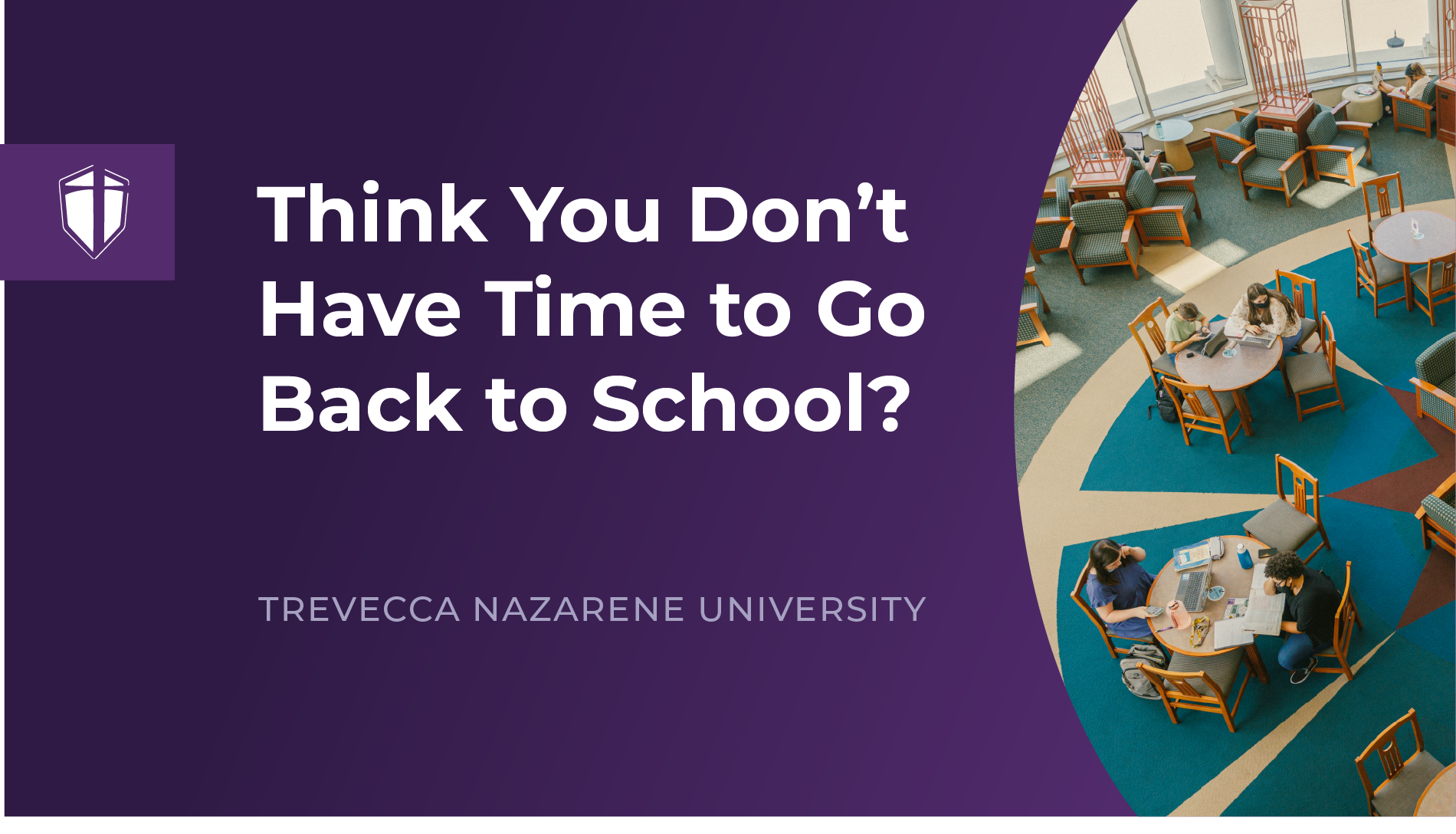 Between work, family and just getting through the week, the idea of returning to school for an advanced degree can feel impossible. As daunting as it might seem, we help students fit graduate school into their routines every day. Trevecca's degree programs are built for working adults just like you. Our programs are created to accommodate your busy schedule, pair you with peers who are working through the same program and give you the tools you need to graduate.
Big Challenges, Bite-size Solutions
Like all big tasks, tackling your degree is a matter of taking things step by step. You'll focus on one course at a time, and you'll work on assignments when it's convenient for you. Our advising staff can help you strategize and balance your coursework with your busy lifestyle. We're committed to helping you figure out how to strike that delicate equilibrium to achieve your goals.

We know how important it is to protect time with your family and friends, and we've helped students handle that for decades. Time management and routines can be the key. While your situation and motivations for pursuing a degree are unique, we have a toolkit full of solutions to help you navigate your academic journey. Those solutions help hundreds of students graduate each year, giving them the sense of accomplishment that comes from completing an advanced degree, furthering their careers or even making a career change.
Built for You
With online class offerings and schedules designed for working adults, Trevecca helps ensure that you can achieve your ambitions. We even ship your textbooks to your door. You'll also have a cohort of fellow students in your program who face similar challenges. You'll build community with others in the same situation and help one another succeed. Our alumni network is another resource that can help you make valuable industry connections before you even graduate.

Finally, our coursework is designed to help you get into (or back into) the rigors of academic life. We firmly believe that advanced degrees can help you build a solid foundation for your future and give you a leg up on meeting your life goals.

If you've been considering getting your undergraduate, graduate or even doctoral degree, but you're worried about the time it will take, we'd love to talk to you about how you can make our programs work for you. Visit trevecca.edu/apply, and let us help you reach your potential.