Preparing for New Student Orientation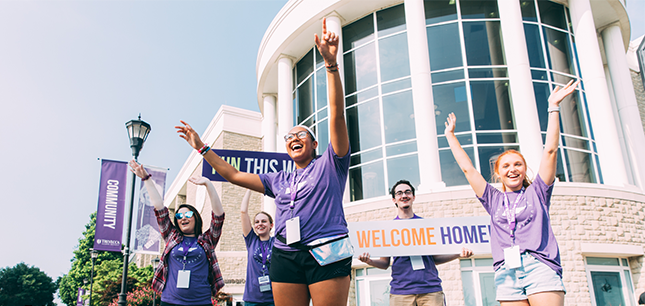 Orientation can be a daunting experience for both students and parents alike. Some students may be nervous about making friends, meeting new people or signing up for classes. Megan McGhee, Trevecca's director of new student programs, share provided a little insight on what to expect and how to make the most of the weekend.
What to expect
Students can expect a glimpse of student life and what's it's like to be a part of the Trevecca community. You'll be able to meet with professors, receive your class schedule and meet up with your LINK group. Link groups are required for freshman and helps you transition from high school to university life. It also makes it easier for students to make friends by having coordinated activities that encourage team-building and fun.
Advice from a junior
Julia O' Malley, Trevecca biology major, went through the orientation experience. Her biggest fear was not finding someone to connect with and not making friends. She shared a few tips for incoming freshman who may feel a bit nervous about orientation:
Relax and enjoy yourself. Don't think too hard about things.
Don't put pressure on yourself. It's important to be involved, but you don't have to strain yourself to participate in every little thing.
Be yourself. You are more likely to meet people you truly connect with.
Don't be discouraged if you don't make a lot of friends. You will make more friends during the semester than you will at New Student Orientation.
A note for transfer students
New Student Orientation is very similar for freshman and transfer students—with a few subtle differences. While there are multiple LINK groups for incoming freshman, there is often only one for transfer students. It's a larger group, so be prepared for group activities to take a little more planning. At orientation, you'll have multiple opportunities to have fun and make new friends.
And don't miss the Party at Jackson, a Friday night event during orientation for all students that will include music, games, food and a good way to get to know other students!
---
Everything you need to know
All the New Student Orientation info you need is available on our website.