Homecoming Awards 2023: Drake Creating Captivating Missional Content, Serving Next Generation of Film and Television Students
| Awards
Adam Drake is the recipient of the 2023 T-Award in the layperson category. This annual award goes to an alumnus/alumna who is not in a ministry profession and who has exhibited a life of devotion to service and ministering to others.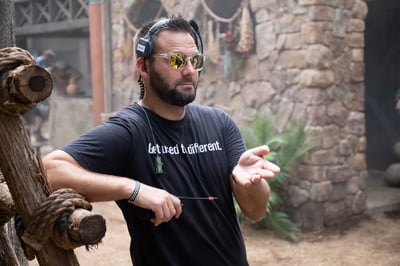 Long after graduating, service has been shaping Adam Drake's relationship with Trevecca. As the first assistant director on the groundbreaking series "The Chosen," he has opened the door for students to visit the set and participate in internships, impacting their understanding of the tv industry and shaping their future.
This fall he has stepped into a new kind of service, teaching courses in the film and television program as a part-time instructor in a number of subjects including on-set operations, cinematography and more.
As an undergraduate student, Drake studied communications on the Hill. He began acting and eventually landed roles in music videos and commercials. Through an internship, he learned how to shoot and edit videos. Later, through Trevecca, he took advantage of an opportunity to study at the Los Angeles Film Studies Center and decided that he wanted to be part of the film industry.
His interest in film became more than just a creative outlet or passion. At Trevecca, he discovered it was a calling.
"When I was a junior and really getting into film, the Lord spoke to me and said, 'This is your mission field,'" said Drake. "There is nothing that has a bigger impact on our culture than television and media. I wanted to be an example of Christ to the people on set and I knew that space could be a mission field just like if I was going overseas."
After years of acting and filming, he discovered that the position of first assistant director fit well with his natural talents. In that role, his task is to keep the production running smoothly.
"I'm basically an on-site producer for logistics. I keep everything moving efficiently because in this business time is money and everything is very expensive," said Drake. "It is my job to limit those expenses and make us as successful and safe as possible."
He enjoys being a part of telling a compelling story. He has produced several films in addition to "The Chosen," including "I'm Not Ashamed" and "Heaven Bound" as well as music videos for artists such as Miranda Lambert, Keith Urban, Ingrid Andress, Cole Swindell and Hayley Williams from Paramore. He has also worked in various positions besides assistant directing, and in all of those he has found opportunities to serve in the workplace by doing his job with excellence and creating meaningful content for audiences. He hopes to serve the students of Trevecca with his gifts and unique perspective too.
"The Lord has allowed success as I've served others. I serve the director and the production crew, that's a big part of my job," Drake said. "I want to be a mentor to these students and ultimately, I want to teach them there is no better place to be than in the center of God's will."