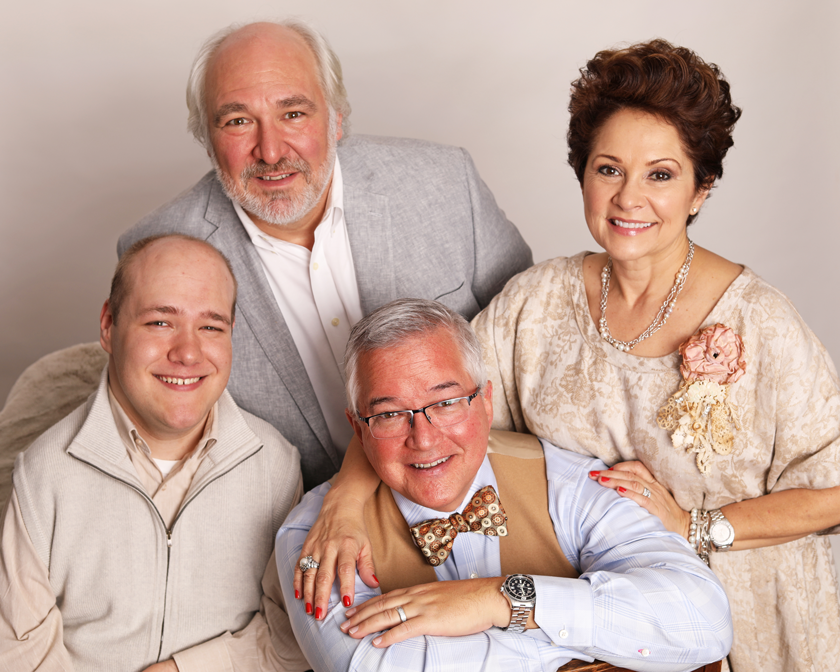 In less than a week, Trevecca will be welcoming the New Speer Family to campus to kick off the University's Fall Celebration of Music and Inspiration. Before that Oct. 19 event, we thought we'd take a little time to get to know more about the New Speer Family and their Trevecca ties.
The New Speers Family is made up of Brian Speer and his wife, Allison, Mike Allen and Southern Gospel newcomer, Ben Waites. Founded in 1921, the original Speer Family featured G.T and his wife, Lena, along with Pearl and Logan Claborn. The Claborns eventually left the group, and the Speers children began to perform alongside their parents. Eventually, Brock and Ben, G.T. and Lena's sons, led the group.
Brock met his wife, Faye Ihrig Speer, while she was singing in a Trevecca ladies trio. The two married in 1948, and Faye left her studies to tour with the Speer Family, singing alto in the group. Faye later returned to Trevecca, completing her bachelor's degree in social work in 1974. Their son, Brian, now sings in the New Speer Family alongside his wife, Allison.
Ben Speer, G.T. and Lena's youngest son, was also an alumnus of Trevecca, graduating in 1954. He sang and played piano with the group throughout his career, recording more than 75 albums during his tenure. He retired from the Speer Family in 1992.
In 1998 at the National Quartet Convention, Brock Speer officially retired the Speer Family. In a release announcing the formation of the New Speer Family, Brian Speer recalled that moment.
"When the Speers retired at the National Quartet Convention in 1998, it was a hard time for us because not only were the voices retiring, but I felt that the songs were going away, too," he said. "For some time, Allison and I have been talking about how fun it would be to bring those songs back with a fresh sound, reviving them for those long-time Speer Family fans and making them relevant to a new generation of listeners."
Brian and Allison officially launched the New Speer Family in early January. The group has been touring throughout the year and is already adding dates for 2019. Don't miss your chance to hear them on Oct. 19 at Trevecca's Fall Celebration of Music and Inspiration!
---
Join us!
Don't miss Trevecca's 9th annual Fall Celebration of Music and Inspiration, featuring the New Speer Family and Trevecca's own Redeemed! Click below to register.