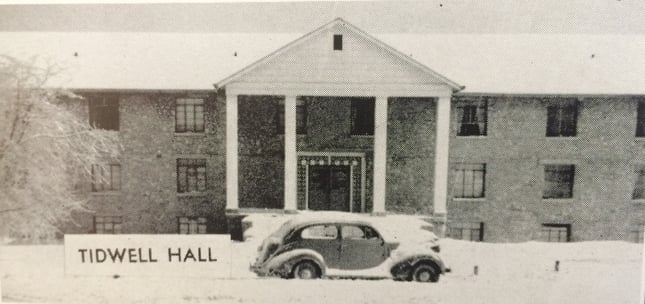 We all know about the (false) stereotypes associated "Georgia girls" and "Benson boys" at Trevecca, but have you ever wondered why the girl's dorms at Trevecca are named after states, or how dorm life has changed over the decades? The answer to the first is actually quite simple: Tennessee and Georgia, both constructed in 1966, are named for the Southeast Education Zone that sponsored the buildings. Johnson Hall, however, was named after a special woman named Sadie Agnew Johnson, who was a mathematics professor from 1928-1948.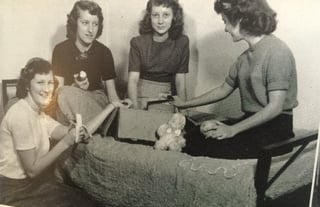 Dorm life has changed drastically since the school's founding in 1901. First, the campus we know today was not the University's home until 1932. The two residence halls at that time were McKay (for girls) and Hardy (for men). McKay was damaged by a fire in 1954 and turned into a print shop in the '80s. The present-day cafeteria now sits on the McKay building site, which is why the McKay student lounge still holds that name. The name of "Hardy," which honored the Hardy family and their many contributions to the University, would later be given to the current alumni center.
Interestingly, as the campus grew, the purposes of buildings changed. For instance, Tidwell and Tennessee Halls as well as Wise apartments were originally for men, while Terrace, Shingler, Redford, and Bush were for married students and faculty. In addition, married students were allowed for some time to have trailers installed on campus. Now, Wise, Shingler, Redford, and Bush are all for women, Terrace is for men and married students, and Tidwell is a faculty center. It's safe to say the female population at Trevecca has grown over the years!
Rules have also changed. While students today might complain about curfew, alumni would tell them that they had to ask for permission to leave campus at any time. Here are some other rules from the archives:
1919-20
Room and Board = $5 per week
"Each student should provide himself with a drinking glass, comb, brush, towels, sheets, pillow, pillow cases, laundry bag, and covering sufficient for winter use."
1927-28
Women were required to wear a "full pleated skirt of good length and a middle blouse with long sleeves and a black tie."
1941-42
"…refrain from playing cards, billiards, or games of chance, and from attending theaters, dances, or other places of amusement which in the judgment of the faculty will interfere with their school progress or prove detrimental to the college."
"Resident students may not leave the city without permission of their respective deans."
"Every student is expected to attend chapel on each school day, Sunday school and two preaching services on Sunday, and the Tuesday evening prayer services."
"No student will be permitted to run any charge account off the campus without permission of the president."
"Cooking is not permitted in the rooms at any time."
"Students who are not paying for appliances may not borrow from those who are."
1965-66
"Dating is permitted at the times of regular church services, Friday evening, and Saturday afternoon and evening….When students leave the campus for a date, they are to go with another couple or an approved chaperone, unless they have been granted a special privilege by their head resident."
"The college feels that public display of affection is not in good taste."
"When couples wish to visit either of their homes or make other out of town visits, they must secure the permission of their head resident to do so. Written approval from the parents of the couples involved is to be given to the head resident beforehand."
Curfew: 10:10
Chapel: Every day. Assigned seating.
Women were not to wear any external adornment, including makeup.
No televisions were allowed in dorm rooms.
No cooking was allowed in dorm rooms.