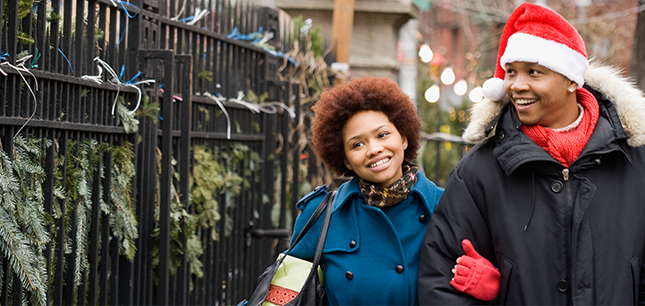 As working adults and students, Trevecca's School of Graduate and Continuing Studies students have spent the last few weeks and months juggling their careers, families and class work. Add in the extra obligations and gatherings of the Christmas season, and you've got a recipe ripe for stress and anxiety.
So, as Christmas Day draws near, we've got a few tips to help our students take a deep breath and enjoy the season.
1. Take an actual break.
Your schedule is always full, with work, school, friends and family to juggle. You're probably already thinking about what 2017 has in store. But before you jump into prepping for that next class or creating your list of resolutions, make sure you actually set aside at least one day to enjoy and rest during the holiday season. If work or school deadlines are looming, work ahead so that you can enjoy the time away without anxiety. If you can, turn off your work email and email reminders so you can have uninterrupted time with family and friends.
2. Plan something to look forward to.
Most of us aren't going to take amazing holiday vacations to fantastic locales. But even if you're not traveling at all this Christmas, you can plan a few fun activities for your break. Whether it's lunch with friends or family you don't get to see often, a basketball game with the guys or tickets to a movie or concert, plan ahead and prioritize something you enjoy.
3. Recharge
Everyone is different, and we all recharge differently. Over the holidays, make time for the things in your life that leave you feeling refreshed and ready to tackle the future. Go for a run, read a book for fun, pray, cook or sing. Whatever it is that revives your energy levels and clears your head, do it!
4. Don't try to do too much.
It's easy to try to cram too much into the holidays. Resist the urge to overschedule, especially when it comes to holiday events, experiences and expectations. It really is OK to say no every once in awhile. Make the most of the holidays, but don't be afraid to push pause if your holiday schedule starts stressing you out.
5. Reflect
Set aside some time to look back at the last few months with a little more clarity. How have you grown professionally, emotionally, or spiritually? What goals have you achieved? How are your relationships, personal and professional? Take some time to evaluate the past few months and celebrate your successes—and addressing the things that may need a little work.
Working toward a degree when you're also juggling work and family and other responsibilities isn't easy, but you've made it this far! We're proud of you. Now, go enjoy Christmas!