Celebrating National Engineers Week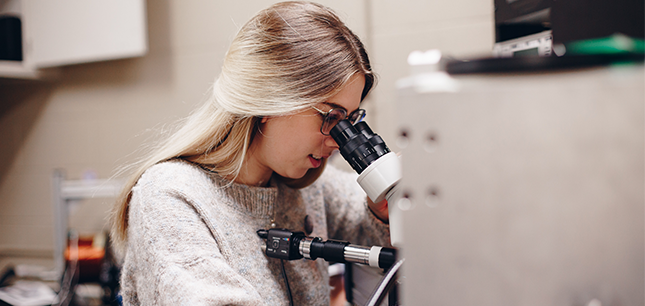 Engineers make our world work—which is why the National Society of Engineers has set aside this week as National Engineers Week. And Trevecca has a lot to celebrate with the recent launch of the University's electrical and computer engineering program.
Throughout the week, we'll be celebrating our engineering program on Trevecca's social media, but to kick the celebration off, here are a few facts about what makes our engineering program special.
1. Our faculty members have real-world industry experience.
Both Dr. Fred Cawthorne and Dr. David Wu, the developers of Trevecca's electrical and computer engineering program, have real-world industry experience. In addition to Wu's work with a number of joint research programs at Stanford University, Texas A&M and the University of North Carolina in Charlotte, he also holds 12 U.S. patents and has professional experience at Compaq, IBM and Intel. He is a well-recognized design for test (DFT) expert, developing methodologies and strategies for Intel and IBM and a former recipient of the Intel Achievement Award, one of the highest honors at the company. Cawthorne, professor of physics, spent six years at Neocera, Inc., where he served as the director of engineering and product development. At Neocera, Cawthorne played key roles in the development of pulsed-laser deposition systems, a low-k dielectric metrology system and a scanning SQUID (Superconducting Quantum Interference Device) microscope, which is used by semiconductor manufacturers to locate defects in devices such as computer processors.
2. Our curriculum balances theoretical knowledge with hands-on experiences.
Design projects are built into Trevecca's engineering curriculum as early as freshman year when Intro to Engineering students work together to create radio-controlled robots. A team project, the students work together—as they will in the workforce—to design all software and mechanics. That continues throughout students' course of study, with junior and senior design projects designed to give them real-world experience. "We didn't want students to have just one design experience," Cawthorne said. "The curriculum immerses students in design projects, so they have the experience of building on what they have learned."
3. Our program provides academic rigor in a Christian environment.
Excellence in education that's grounded in faith is something our professors are passionate about. "It is very important to me [to play a role] in educating students who are interested in a rigorous engineering curriculum at a Christian university," Wu said. He and Cawthorne have designed a program that provides academic rigor while also promoting and modeling true Christian values and incorporating the Christian perspectives in the discussion of current issues in the field.
---
Engineering at Trevecca
Interested in Trevecca's engineering major? Click below to learn more on our website.