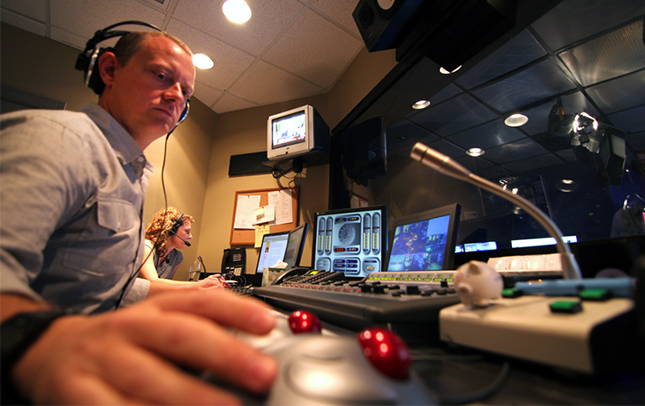 In a few weeks, Blake Thompson will join Jeremy Cowart, Matt Litton and Benji Cowart in a discussion about creativity and work. The luncheon, sponsored by the Trevecca Association of Business Professionals, is scheduled for October 12.
So, we thought we'd help you get to know Blake a little better before then. Here are a few things we've discovered about him in our research:
1. Blake has probably shaped a few of your favorite radio shows and podcasts.
Blake was hired as the producer of "The Dave Ramsey Show" in 1996 as just the eighth person to join the company. Ramsey Solutions now has more than 550 team members with Blake serving as senior executive producer of Ramsey Media. In addition to supervising production of "The Dave Ramsey Show" and "Chris Brown's True Stewardship" radio programs and podcasts, Blake oversees production of the company's YouTube and video channels, along with multiple podcasts including Chris Hogan's "Retire Inspired," "EntreLeadership," "Leadership Momentum," and Christy Brown's "Business Boutique."
2. Blake's a Trevecca grad.
Blake earned a broadcast communications degree from Trevecca, and the University played a small role in connecting Blake with Dave Ramsey. He really tells the story better than we do.
3. Blake's leadership style is about direction and purpose.
As the senior executive producer at Ramsey Solutions, Blake oversees several employees. He says his role is to "provide a sense of direction and purpose." That means outlining goals and providing the encouragement and motivation necessary to reach them, but also constantly reminding his team why they do what they do. You can read more of Blake's thoughts on leadership here.

Join Blake, Jeremy Cowart, Benji Cowart and Matt Litton on October 12 for "Why All Work Is Creative (And What to Do About It)." The luncheon is scheduled for 11 a.m. to 1 p.m. in the Boone Convocation Center on Trevecca's campus. Tickets cost $25 per person, while a $300 table sponsorship reserves eight seats. All event proceeds benefit student scholarships. Register here.