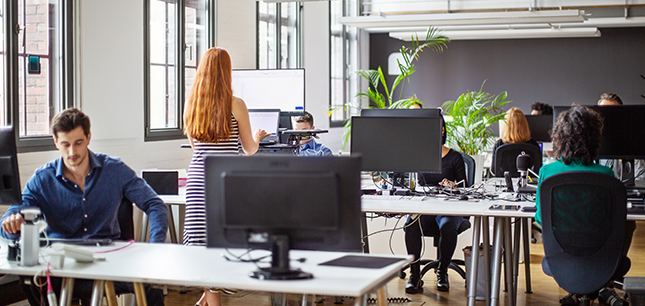 If you've been thinking about finishing your bachelor's degree but haven't yet committed to going back to school, maybe these concerns sound familiar:
I'm too old and out of touch to go back to college.
There's no way I have time to squeeze school into my busy schedule with work and family activities.
Our budget is stretched right now; how could I afford to take classes?
Is finishing my bachelor's degree even worth it?
We've got answers to all of your questions when it comes to finishing your degree. Most importantly, completing your degree is worth the time and money/investment, and here's why: Statistics still show that a college degree has multiple benefits for success and earning potential for the employee.
Here are three reasons you should come back to school and get the degree you've been thinking about finishing:
1. Earning a college degree means a greater chance you'll get a job and keep it.
The most basic and obvious reason to complete your degree is simple and straight-forward: doing so means you'll have the potential to actually be employed in the workforce.

According to a study by the U.S. Bureau of Labor Statistics, "In 2016, the labor force participation rates for men and women with less than a high school diploma were 58.1 percent and 33.3 percent, respectively. By contrast, the rates for men and women with a professional degree were 79.9 percent and 75.1 percent, respectively."



2. You're more likely to hold a management position if you have a college degree.
"In 2016, the majority of employed people with at least a bachelor's degree worked in management, professional, and related occupations," the study also reported.
Advancing in your job and working in a professional occupation is another benefit of holding a college degree. With more responsibility comes greater financial compensation, more professional development, improved self-esteem and future opportunities for promotion—all of which contribute to an overall greater quality of life for you and your family.
3. With a college degree, your lifetime earning potential is $624,000 more than it would be without a degree.

Those who completed some college but didn't earn a degree in the 2016 study reported their weekly earnings at $756 a week, while those with a bachelor's degree reported $1,156 in weekly earnings.
The numbers don't lie. Those who hold college degrees make at least 53 percent more than those who don't have a degree. Degree-holders make $400 more each week than their peers without degrees; that's $20,800 more each year.
A small financial investment in your education now will more than pay for itself during the lifetime of your career. For example, even without figuring in raises, if you have 30 more years to work, you'd earn $624,000 more than you would without a degree!
It should go without saying, but to make it crystal clear: Completing your degree pays off.


Now is the time to finish your degree
The benefits of degree-completion far outweigh the costs, making now the perfect time to start the enrollment process at Trevecca.
Contact us today to speak with an enrollment counselor and we'll be glad to talk through any questions or fears you may still be struggling with.
We know that finishing your degree is worth it, and we want you to be successful. There's a place for you at Trevecca. We want to help you find it.