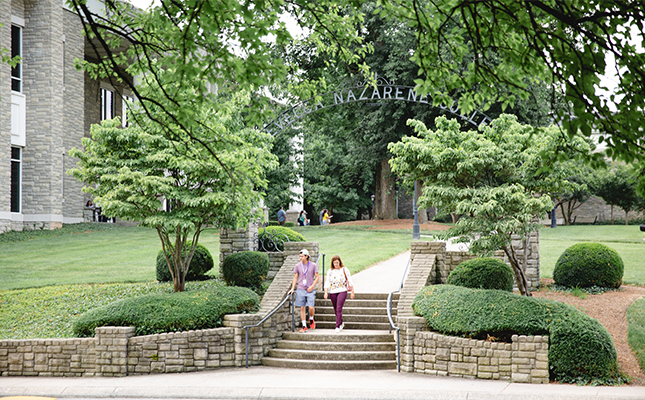 Choosing a college can be a bit stressful. As a high school senior, you're likely full of questions. What are the professors like? What do the dorms look like? How will I pay for college? What will it be like? And of course, one of the most important questions of all: are there any good coffee shops on campus? (The answer of course, is yes.)
This semester, Trevecca Nazarene University is upholding our promise to answer those questions and more at Experience Trevecca Day. Scheduled for March 21, Experience Trevecca Day will allow you to get a feel for Trevecca's campus and experience what it's like to live and study here. Some of the highlights will include the opportunity to meet with professors, grab coffee at Nineteen|01, Trevecca's on-campus coffee shop, enjoy lunch with other students and tour the residence halls. You'll also get a chance to meet Trevecca's president, Dr. Dan Boone, learn about financial aid opportunities and participate in a Q&A with student life representatives.
Visiting campus is a vital part of making your college decision. Sure, you can read all about your top schools, study their social media accounts and look at photos, but nothing compares to a visit. We checked in with three current Trevecca freshmen who say their visit to Trevecca played a major role in their decision to study here.
Carolyn Johnson
Sophomore
Communication Studies
Experience Trevecca Day influenced my decision-making process because it helped me get a sense of what the people and environment would be like if I were to attend Trevecca. When President Dan Boone said Trevecca' s motto—To be, rather than to seem—it stood out to me, and I loved it. While there, I got to meet some professors that I now work with in the Communication Department; I learned more about Trevecca' s mission and campus life; and I got to see a little bit of the campus. If I hadn't gone to Experience Trevecca Day, I would've had a harder time picturing myself at Trevecca, and I would've been a bit more uncomfortable on my first day of orientation. Seeing the goats (at Trevecca's Urban Farm), getting freebies, meeting welcoming people, and eating good food made it a great experience for me.
Jack Tycksen
Sophomore
Commercial Music
Experience Trevecca Day was the main reason why I ended up attending Trevecca. I'm originally from Washington State, so I needed some major convincing in order for me to move across the country. But getting to explore the beautiful campus, speaking with the professors face-to-face, and meeting new people was so inviting. I knew that once the events for the day were over, this was the university I needed to attend!
Rachel Morris
Sophomore
Psychology with a minor in counseling
During my Experience Trevecca Day I felt like God was calling me here during the student panel. Listening to the students talk about not just the fun events on campus, but also how God is so present here just gave me an overwhelming sense of peace and a strong desire to go here.